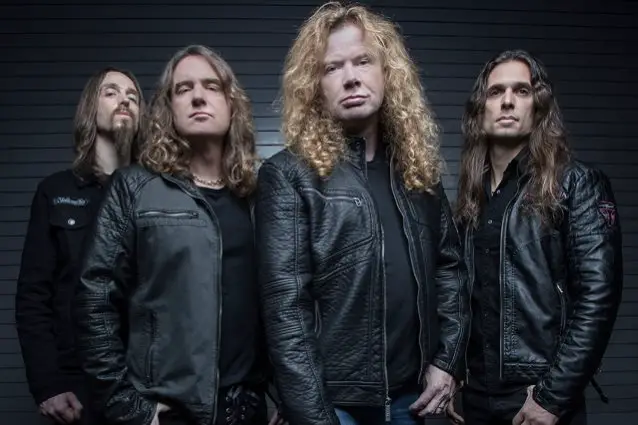 MEGADETH will release a greatest-hits album, "Warheads On Foreheads", on March 22.
The album will feature 35 remastered tracks hand-selected by MEGADETH mainman Dave Mustaine.
MEGADETH recently released a 25-second video teaser for "Warheads On Foreheads"featuring a snippet of the band's classic track "Take No Prisoners".
The cover artwork for "Warheads On Foreheads" can be seen below.

In a recent interview with Eddie Trunk, Mustaine talked about the band's upcoming 16th album, saying that the band's is hoping for a 2019 spring release.
Mustaine said: "We're just assembling all the pieces right now," he said. "Kiko [Loureiro, guitar] and Dirk [Verbeuren, drums] have both been out [to the studio in Nashville] to start recording, and we're now in the process of finalizing all the arrangements. So we're hoping for a spring release next year."
Saying he's "very" happy with Dirk, Dave added: "We posted a little clip of him online and people freaked out over it," Mustaine said. "And that's how I feel. I watch him play and I just laugh. 'Cause when I play live, I'm not looking at him — I'm looking at the audience — so I don't really see. And Kiko said to me [imitates Brazilian accent], 'You're going to find out he's the best drummer MEGADETH ever had.' And I went, 'Okay. I agree.'"