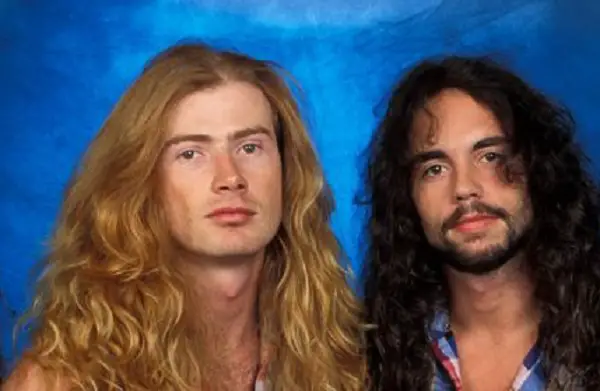 Dave Mustaine says that he really wanted Nick Menza and Marty Friedman to return to MEGADETH for 2016's Dystopia album.
Menza was approached by Mustaine and bassist David Ellefson to replace Shawn Drover at the end of 2014, and he started working out new tracks with the band. But the plan collapsed after he was offered a contract he described as "very unfair."
In May 2016, Nick died after suffering a heart attack during a concert with OHM: at The Baked Potato in Studio City, California.
Now, In a new interview with Loudwire, Dave said: "The chemistry of Nick and Marty, don't get me wrong — that was amazing. And my heart aches when I think about that. And, in fact, that's why I wrote at the back of the book 'In Loving Memory' and not 'In Memory Of'.
"Nick said some sh*tty things about me at the end, especially to you guys and to Blabbermouth, where he would just wail on me. And I would think, 'Nick, why are you doing this? I never did anything to you. I'm always fighting for you.
"When I would read the stuff that he would [say about me], I would just be so hurt. 'Cause when we went to do the reunion, you see Ellefson tell the story, I wasn't the one that said Nick wasn't ready — Dave said that," he continued. "I was really bummed about that; I wanted things to work out with Nick. And then in fact, I even said, 'You know what? If it's not gonna work with him playing in the studio, let's have somebody else go into the studio and play, and then we can have Nick play live.'
"I was bending over backwards to get a place for Nick. And then he said he wanted this exorbitant amount of cash to work for us and to be able to sell all kinds of merchandise that he had."
"Marty has a really successful career in Japan where he makes quite a lot of money," Mustaine added. "And this is the part where I thought it was a little weird, where he said he said that he has to pay all his team while he's gone instead of just himself. 'Cause I thought we'll pay you what you're making so that's switching horses in the middle of the river — it's no big deal unless you fall off. And then when we found out that he wanted to sell his merch, his this, his that, his this, his that, then he wanted this crazy amount of money and he wanted to fly first class everywhere. I said to our management, 'I can't deal with this.'"