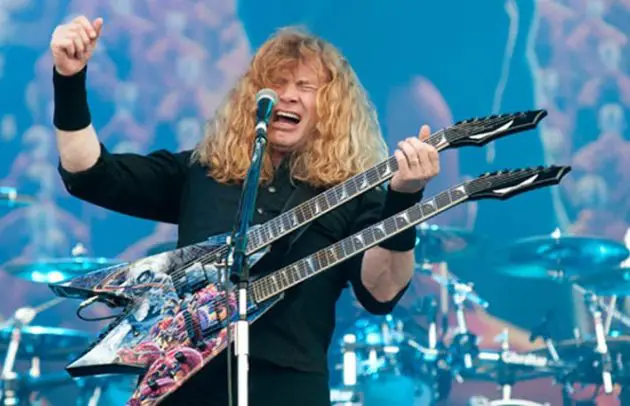 In a chat with Ultimate-Guitar.com's Justin Beckner, MEGADETH mainman Dave Mustaine talked about Jackson Guitars which are associated with band's classic era.
He tells:  "A lot of people know me from playing Jackson but that was a period in time when all the planets aligned and there were a whole bunch of people there that made Jackson great and those people aren't there anymore. When you take away Tim Wilson and Grover Jackson, and all the people who actually made the guitars, it's like when Jaguar got bought by Ford. I don't know if they're any good anymore, I would imagine they are. The guitars I've seen look beautiful but there's a reason I'm not there anymore."
Asked on what the difference is between one of his signature guitars that can be bought in guitar stores and the ones he uses onstage, Dave replied: "Not much. It was to do with the price point of the guitar. If somebody in Guitar Center is playing the Pro Model, it's the same exact thing I use.
He added: "If it's one of the Semi-Pro models – which are a little more affordable – it's going to be the same as the one I play other than having my guitar tech just personalize it a little more – making sure the action is right and it's got the right strings on it. It's really close to how I play it anyways because we've gone over the specs with a micrometer with these guys [Dean Guitars] on neck shape, spacing, the height of saddles, all that kind of stuff. So they're really particular about them."