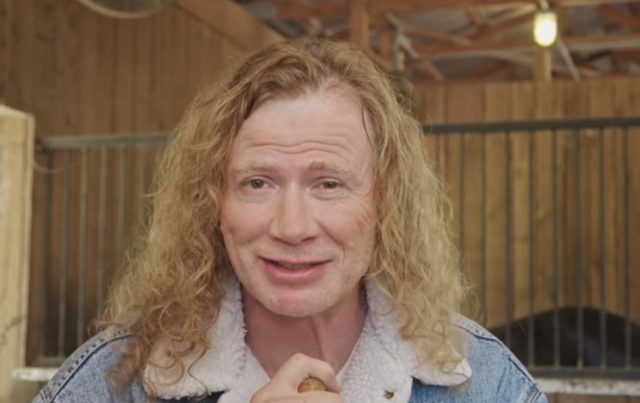 MEGADETH mainman Dave Mustaine talked how it was like winning his first Grammy award, saying once again that he "didn't care" that the house band played the song "Master Of Puppets" from his former band METALLICA.
Mustaine said to Rolling Stone (see video below): "We've been nominated a lot of times, which is great — it's very flattering. But there's only so many times you can say, 'Oh, I'm really happy I was just nominated.' [Chuckles] Yeah, right! So I remember it when we actually did win, the way that they announced it, it was kind of backwards. Margaret Cho was the presenter, and she said, 'And the winner is 'Dystopia',' and it was supposed to have been the winner was MEGADETH, because it was about the band, not about the song. It took a second to sink in, and then we got up there. And then, on the way down there, the music is playing in the background, and I didn't even care. We got up there and we did our thing. And somebody goes, 'Did you hear the song they played when you got your award?' And I was, like, 'No.' Evidently, they played a METALLICA song. And I said, 'I don't feel bad for 'em, 'cause they did a really, really bad job of it.' Good thing is it didn't say 'METALLICA' on the freakin' Grammy!"
Mustaine was also asked about the first time he met late METALLICA bassist Cliff Burton, which he used as an opportunity to recount how he supposedly inserted the main riff from LYNYRD SKYNYRD's "Sweet Home Alabama" into what became the METALLICA song "The Four Horsemen" (known in its original version as "The Mechanix").
"Cliff and I became really, really, really close," he said. "And I remember he had an affinity for LYNYRD SKYNYRD. And I remember driving to rehearsal one day. We were listening to 'Sweet Home Alabama'. And Lars [Ulrich, METALLICA drummer] goes [adopts Danish accent], 'Oh, man, we have to slow this part down in the middle, man.' And I went, 'Okay.' So I went [hums 'Sweet Home Alabama' riff]. I was playing 'Sweet Home Alabama', and he didn't know it. And he goes [adopts Danish accent], 'Fuck! That's fucking brilliant, man.' And I went, 'Okay. Here we go.' So I ditched the [last part of the 'Sweet Home Alabama' riff]. Dave Mustaine and LYNYRD SKYNYRD wrote 'The Four Horsemen'."