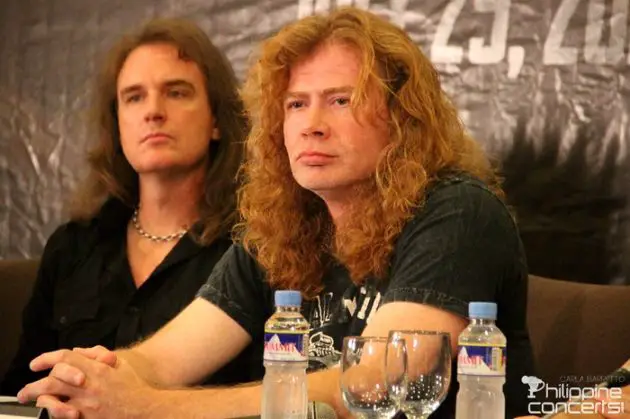 In an interview with Metal Injection, MEGADETH bassist David Ellefson was asked about things he thinks people who trash Dave Mustaine online should know, to which he replied : "Well, look, Dave is a very bold person. When he thinks something, he says it – for better or for worse. And that does come back to bite him once in a while."
He continued: "But for the most part, he's a very honest and a he's a very genuine guy, and that's always one of the things I appreciated about him. The first day I met him, it was like, 'Okay, this guy is a real rock star. There's guys outside walking down the street that look like Vince Neil and there's the David Lee Roth wannabes hanging around Hollywood. Dave is the real guy.' He's a real artist, and there's a real simplicity to him.
He added: "As complex as Dave sometimes seems, he's a pretty simple guy. When he picks up a guitar and just start playing something, he'll come up with a riff and you're, like, 'That wasn't that hard. I could have come up with that.' But I didn't – he did. And that's kind of the beauty. As his friend, and as a bandmate with him, that's been one of the kind of smile-inside moments that I get when we're standing there working on things together. And that he's really in the moment. Dave is not a guy who's kind of over there or over there – he's really in the moment.
"And his music is very authentic, it's very true. And one thing I really learned from him is that this whole deal is about charisma, and Dave's not afraid to just put himself out there for who he really is, and that takes a lot of balls. And so I think that's kind of been nice with our partnership – I'm kind of like the 'Minnesota nice guy,' as they call it in Minnesota, and that, I think, has benefited Dave, and who Dave is has certainly benefited me.
"When I moved here in '83, Dave showed me the ropes of LA. I was the only guy with a set of wheels in my band, so we would drive around and that's how I learned how to drive these gnarly streets of LA and the freeways. And Dave, having had experience on the streets, he taught me how to grow up in LA. He's been a big brother to me as much as anything. So those are things about Dave that are just… That's kind of what makes our friendship and our bond so… You know, we're lifetime buddies; that's just how it is between me and Dave."