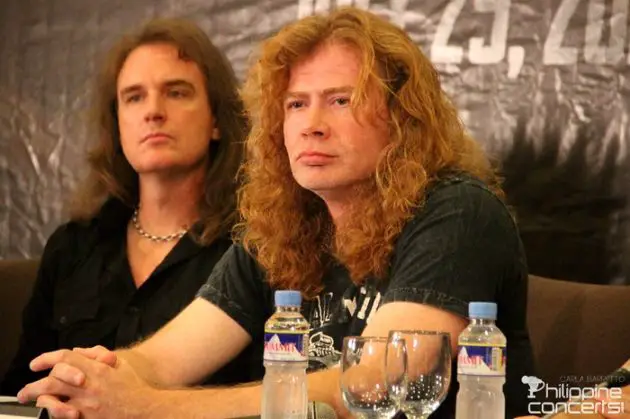 In an interview with HeavyMetal .dk, MEGADETH bassist Dave Ellefson talked about Dave Mustaine's lack of vocal prowess, saying:
"I think Megadeth is certainly the charisma of Dave's riffs, his singing…

We were talking the other day… There's great singers – vocalists – and then there's guys who just get on the mic with conviction and scare people, and that's what Dave does.

"He's just *adopts Mustaine's vocal style* 'Hello me, meet the real me.' It's believable.

"So the vocal prowess isn't as important as the conviction, and I learned that as soon as I met Dave – that he had real conviction.

"And I think probably I'm the yin to the yang – I'm the balance to that. And every band needs that too – you have to have balance, because I think that's what brings harmony to Megadeth.
Focusing on the band's current lineup, Dave added:
"And now certainly Kiko [Loureiro] coming in has created a real team. I remember when we finished [2016's] 'Dystopia', Dave goes, 'God, I'm so glad Kiko's here. I feel like I have a real guitar partner.'

"I grew up with twin guitar – Thin Lizzy, Judas Priest, Iron Maiden, KISS – and I feel like Megadeth has that real partnership now.

"With Dirk [Verbeuren], he really understands from a player, from a student and from a fan, he understands Gar [Samuelson] – the way his fabric of Megadeth in those days – Chuck [Behler], Nick [Menza], Jimmy DeGrasso [who was with us] just a short time, and then even the stuff Shawn Drover played on. So I think we now are Megadeth."
MEGADETH's latest album, "Dystopia" opened with 48,000 copies, marking MEGADETH's highest-charting album since 1992's "Countdown To Extinction" debuted and peaked at No. 2 on the chart dated August 1 of that year. "Dystopia" also logs the group's best sales week since 2007, when "United Abominations" landed at No. 8 with first-week sales of 54,000.