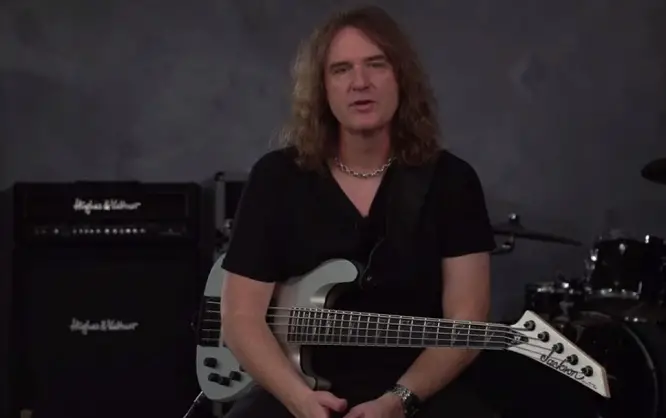 During an appearance on the "Do You Know Jack?" podcast, MEGADETH bassist David Ellefson was asked how old he was when he was first explosed to Geezer Butler's (BLACK SABBATH) playing.
He responded: "I didn't hear Geezer until I was quite a bit older. I guess I probably heard 'Paranoid', 'cause I played it in one of my bands when I was probably — I don't know — 13, 14 years old. But, honestly, I was not a big fan of the Ozzy years of SABBATH. Paranoid is my favorite SABBATH record from the Ozzy era, but when I really got attuned into SABBATH was when Ronnie James Dio joined the band on the Heaven And Hell album.
"That was really my era of SABBATH — particularly that album and Mob Rules. Those were the two… And it's because that's the age I was at when I was being introduced to the current heavy metal that was going on around me. SABBATH was cool with Ozzy, but it was kind of more of a throwback into DEEP PURPLE, LED ZEPPELIN, and, quite honestly, that was kind of a generation before me. My music I grew up on was KISS, STYX, CHEAP TRICK, VAN HALEN, BOSTON, and then, as I started to get into heavier stuff, began that Ronnie Dio era of RAINBOW, SABBATH, SCORPIONS, IRON MAIDEN, MOTÖRHEAD— that was really more my generation."
Ellefson also talked about his musical role in MEGADETH and how it compares to that of Butler in SABBATH.
He said: "As far as the bass role, [we are] very different, the two bands, because SABBATH is essentially a three-piece band with a singer. We are a four-piece band, and one of the musicians also sings. Whereas there is one guitar that anchors SABBATH, Geezer has a lot of liberty to go off and fill a lot of space, and can come from a bit of a bluesy background, from a bass point — a lot of pentatonic stuff that he can fill a lot of the space with. In MEGADETH, that's not the case.
[We have] two guitar players who essentially play, on the rhythm guitar parts, very similar parts — the riffs are the building blocks of the songs. So I'm kind of the glue in the middle that sort of ties all that together. So our roles are very different inside our bands."