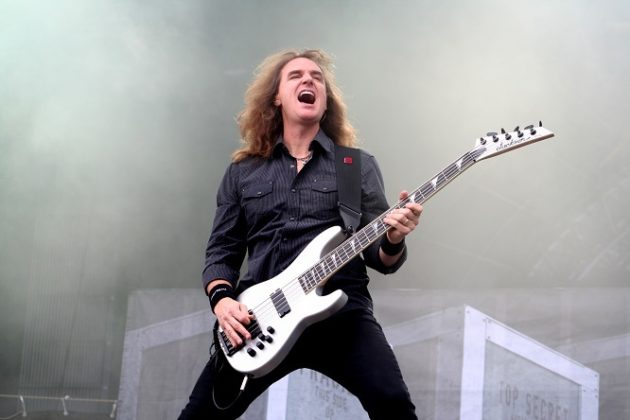 During an appearance on the "Trunk Nation" show on SiriusXM channel Volume, MEGADETH bassist David Ellefson was asked to share his opinion on SLAYER's retirement announcement.
He said: "I am surprised by it. SLAYER's young to be retiring. Look, we've all worked hard. We've headbanged a lot. Our necks hurt. I get it. And I have not talked to the guys, so I don't know what their understanding is internally.
He added: We've been doing this a long time, and I think all of us are fortunate enough to have survived much of the stuff, some of it self-induced and some of it just rock and roll as we know it and the world as we know it. They had an incredible career, they should be inducted into the Rock & Roll Hall of Fame. I mean, by [Rock Hall's] own standards, being an innovator, they are that band for sure.
David was also asked about MEGADETH frontman Dave Mustaine's recent comment that there should at least be one more "Big Four" concert before SLAYER calls it quits. "I completely agree with that," he said. "I think it would awesome. We can only hope and pray that that would happen. I think it would be a great way to sort of say 'adios' to that as far as kind of the 'Big Four' of us being together."
SLAYER announced that it will do one last concert tour around the globe to thank their fans for all of their support over the years, for making the last three-and-a-half decades so packed with good times and unforgettable experiences, and will then move on.