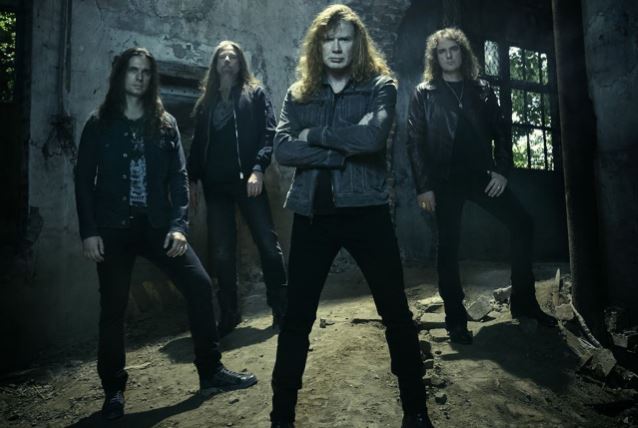 MEGADETH's new album, "Dystopia", debuted at number three on the Billboard 200 chart, right behind Justin Bieber and Adele, resulting in the band's highest charting album in 24 years
"Dystopia" opened with 48,000 copies, marking MEGADETH's highest-charting album since 1992's "Countdown To Extinction" debuted and peaked at No. 2 on the chart dated August 1 of that year. "Dystopia" also logs the group's best sales week since 2007, when "United Abominations" landed at No. 8 with first-week sales of 54,000.
MEGADETH's fifteenth studio album, Dystopia, was released on January 22, 2016. The album, produced by Dave Mustaine and Chris Rakestraw, is the first by the band since 2004's The System Has Failed not to feature longtime drummer Shawn Drover and also the first not to feature guitarist Chris Broderick since 2007's United Abominations. These roles have been filled by LAMB OF GOD drummer Chris Adler and ANGRA guitarist Kiko Loureiro respectively.