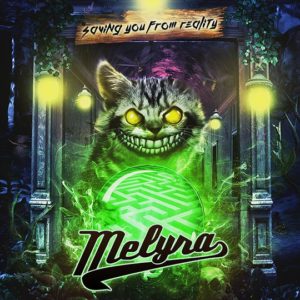 As I said before, to be a girl and play Metal is a double rebellion. Specially in place like Brazil, where women struggle to survive in a society that wasn't build to support them. It would a lot easier to Melyra girls to play anything else than Metal, or even worse, to make use of their "feminility" to reach easy success. But no way, those girls are real fighters, they chose the hardest, even if it is the sweetest. Against all odds they chose to play Metal tonight to our delight.
Long story short, "Saving You from Reality" is a great album with exciting and varied tracks as their Heavy Metal peers use to do. Following this tradition "Saving You from Reality" offers ten different tracks that may please all heavy metallers. Melyra play a very modern version of the tradition Heavy Metal. "What is this?" one may ask. Well, "Saving You from Reality" has some dashes of Symphonic Metal in some tracks with strong and exciting instrumentals. Of course, Melyra aren't a Symphonic band, their songs have an intention of Symphonic, if you know what I mean. There are some dashes of the so-called Modern Metal as in "Fantasy" with those strong low-tuned guitar chordly-riffings. "Eye of the Maze," for instace, has generous dashes of Hard Rock riffing. But the guitar melodies don't lie, Melyra are a Heavy Metal band.
It's very difficult to pink up only one highlight to "Saving You from Reality," but if I would, I'd dare to say it's vocalist Verônica Voxx whose tone of voice is very near the best of the genre. The girl has the power. That's what happens when you leave girls do what they know best. That's what happens when you give the power of the most powerful genre fo the world to women. A parade of great music and powerful music.
Melyra "Saving You from Reality" was self-released in 2018.
Track Listing:
My Delirium
Fantasy
Dead Light
Eye of the Maze
Lucid Dream
Faded
Ashes to Ashes
Zizi
Posion of Myself
Run, Burn
Watch "Dead Light" official video here: