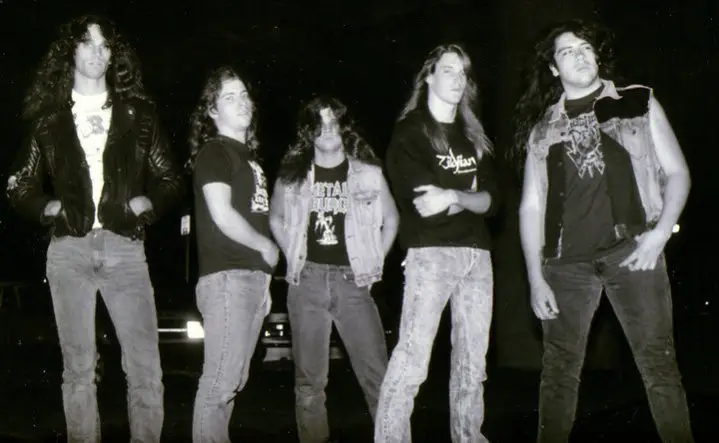 The members of the long-defunct Oakland thrash metal band DEFIANCE have responded to recent rumors that they were planning to reunite when one of the members apparently said on Facebook that they would "never say never" in regards to the possibility of ending their seven-year hiatus.
Guitarist Jim Adams said on the band's Facebook page that he was unaware of any plans for a reunion that would likely include longtime vocalist Steev Esquivel, simply saying "I have not talked with anyone about a reunion."
Bassist Mike Kaufmann also chimed in, claiming that he was the one who said "never say never" in regards to a DEFIANCE reunion. He added, "Steev and I were talking about it earlier this year but that's all it was…talk. With a kick ass new Skinlab album being released and a tour, it's unlikely this will happen anytime soon. I can only speak for myself but I wont be involved in a reunion unless Steev is too."
DEFIANCE is best remembered for their association with the late 80's Bay Area thrash metal scene, along with EXODUS, TESTAMENT, DEATH ANGEL, HEATHEN, VIO-LENCE, FORBIDDEN and many other bands. They played a decidedly technical style of thrash originally evoking bands like TESTAMENT, though they would later move on to playing in their own unique, more progressive thrash style.
Formed in 1985, DEFIANCE released three full-length records on Roadrunner Records – Product Of Society (1989), Void Terra Firma (1990) and Beyond Recognition (1992) – before breaking up in 1995. The band returned more than a decade later, releasing one more album The Prophecy in 2009, and then breaking up once again in 2012.