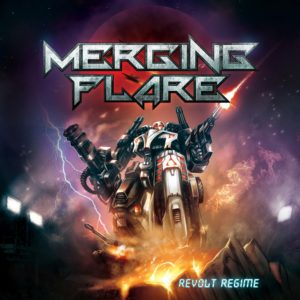 If there is a thing I certainly love about Power Metal is the emotion and the punch mixed with speedy riffing and drumming. Exactly what "Trailblazers," the opening track of Merging Flare "Revolt Regime," is all about. Its punching and jawbreaking cadence that makes your head spin and bang makes all the difference. It can never be wrong. I dare any metaller, be him Heavy, Death, Thrash, or black not to get wild with it. Impossible.
The flare of "Trailblazers"cools down a little from the second track "Alliance in Defiance" on. However, only the speed steps back down a little; the emotion and thumps still go on. "Revolt Regime" is an album for those who love Metal with passion in each note. That's what Merging Flare have to offer the fan; good quality Metal music with lots of emotion. But not that cheesy one, it's Metal emotion, if you what I mean. The one that gets you from the guts and goes to your stomach revolting all your insides. The kind of music that thrills to the bone. Of course, Matias Palm's singing helps that mission a lot because the man knows how to merge the gritty  with the feeling. The kind of vocalist that can have a deep talk to the guitars. So, let him speak with "Midwinter Magic" or the choir in "Sin Against the Sinner."
I invite you to listen to "Revolt Regime" after a long and tiring day of work when you get home after a long and tiring way. It's a sonic balsam to your Metal soul and heart. From where I'm standing there is nothing better. Ten tracks to cool down in very Metal way. I know for some this kind of music Merging Flare do is a bit is a bit monotonous or even boring. That's life it's all I can say. Nothing is perfect, not even Merging Flare "Revolt Regime." But on their behalf they did try hard.
Merging Flare "Revolt Regime" was released on June 14th via Ram It Down Records.
Track Listing:
Trailblazers
Alliance in Defiance
Clarion Call
The Abyss of Time
Mind's Eye Reaching Out
War Within
Midwinter Magic
Devastator
Sin Against the Sinner
The Lucky One
Watch "Alliance in Defiance" official lyric video: