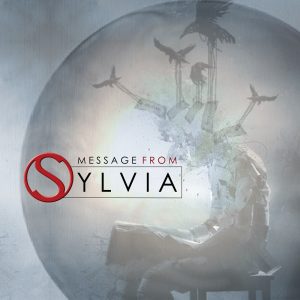 Aside the, let's say, unusual name, Message From Sylvia is pure youth reverie. Strongly based on what is popularly called alternative metal, Message From Sylvia is consistent, strong, and pure. But I can't help having the 1990's feeling when I hear a band like Message From Sylvia. With a big difference: sometimes the guitars tones sound like Zakk Wylde's. And that's so good. Unlike their peers, "Message From Sylvia" has some guitar solos, "Embrace The Rage" and "Alive" are examples. To me guitar solos in this kind of band bring the bit of difference they need to stand out.
The opening tittle is in my opinion the best in this album. "Heart Of war" is strong, heavy, and as modern as it can be. The unusual opening effects deceive to open the roads to a pungent guitar full of effects and guitar squeaks. Another thing about the guitars: their distortion is crystal clear, not opaque as many. The message we get is that Message From Sylvia is not afraid of heavy sounding as their peers who try to hide the guitars in a mist of effects. As far as I know, the guitar has always been the heart of a rock band. Or am I wrong? Rock without punching guitars is the same as football without touch down. It is possible, but no fun at all! Another punch is "Right Here And Now" with a cool drumming full of countertime beats showing that the drummer did his homework.
The art cover is a bit puzzling, but that's okay. The logo is nice, though. Well, this autoentittled debut album is pleasant and I'm sure we're gonna hear from Message From Sylvia soon.
Track Listing:
Heart Of War
A Victim Of Yourself
Right Here And Now
Crystal Ball
Never Want To You Again
Army Of One
Fall In Line
Embrace The Rage
December (Forever)
Alive
Empire (cover)
You can watch Message From Sylvia's official video "Heart Of War" here: