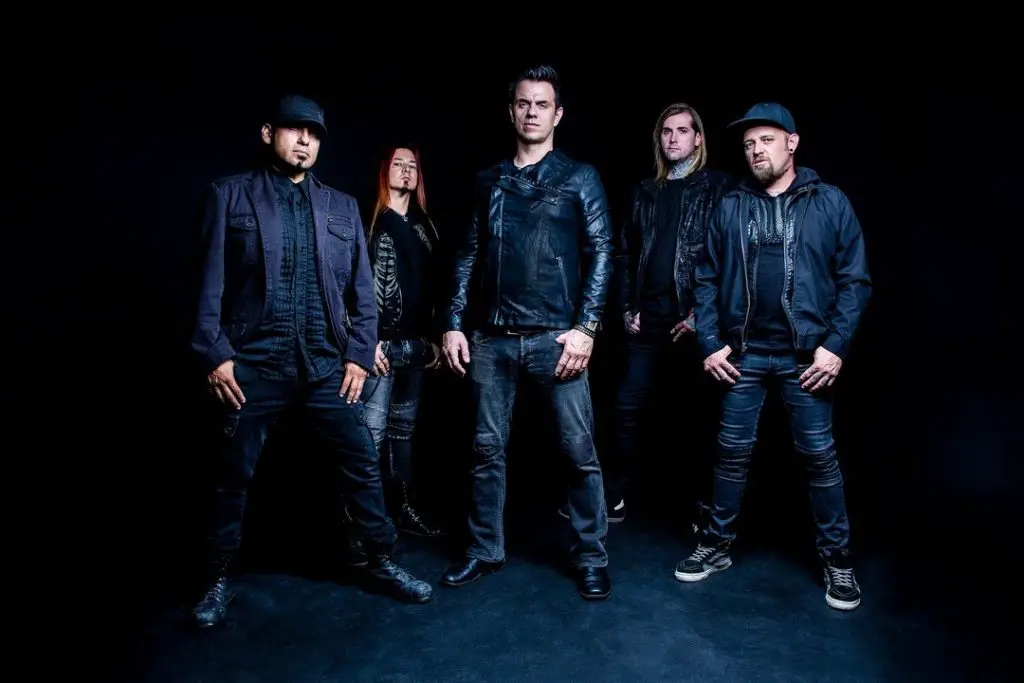 Messer have released their 2nd single & video "Save Myself" as they prepare to head back out on tour with Gemini Syndrome later this month (dates below). The Dallas, Texas based band is following up on the success of their first single "Make This Life", which reached #25 on the Active Rock radio charts – the only truly independent act to do so thus far in 2018. Their self-ttled abum debuted @ #3 on the Soundscan New Artists chart and was named "New and Noteworthy" by iTunes.  With the release "Save Myself"  the band is set to continue their momentum for the rest of the year into 2019.
"Make This Life" garnered attention throughout the rock world with spots on key Hard Rock playlists @ Spotify, Apple Music, Amazon Music, Pandora Radio, Google Play Music, Youtube and Slacker Radio. The "Make This Life" video has more than 102,000 views on Youtube.  The band has been featured @ Loudwire, AXS, Alternative Press, New Noise, Pure Grain Audio, and more.
Messer has played more than 90 shows this year including a 40 city sold out tour with RED and Lacey Sturm. The band was personally invited by Kevin Lyman to play the Texas leg of the final Vans Warped Tour.
The band's cutting edge modern rock sound was born through serendipitous connections in the thriving Deep Ellum music scene of Dallas, an area that has given rise to iconic Hard Rock and Metal bands like Pantera, Drowning Pool, Hell Yeah, and King's X.  Dereak knew he wanted to pursue singing as a career while in High School in Iowa and started honing his chops with local bands.  After high school he moved to Dallas to pursue his music career professionally.  His first contact was with Dallas native Javier, who was making a name for himself playing in Jagermeister sponsored bands Mudflap and Pimpadelic.  The two bonded at a show and became the genesis of Messer.  While looking for a place to get his hair cut, Dereak walked into Maddox's Hair salon on a whim.  The two struck up a conversation about music and another connection was made.  Kenny was traveling from his home in Canada to an audition in Phoenix when his car broke down in Dallas.  He ended up staying in town and found success playing with the band Strangleweed, who made an appearance on the nationally televised Courtroom show "Eye for an Eye."  That caught the attention of the members of Messer, and Kenny became part of the family. Donnie was playing in various Dallas bands and gaining attention as an award-winning Tattoo artist. Maddox would play Donnie tracks the band was working on and in turn, Donnie would play music he was recording at his own home studio. As Messer continued to develop as a band, they knew they wanted to add an additional guitar player, and they all agreed that Donnie was a great fit.  The lineup for Messer was solidified.
The band grew their fan base locally, and began to branch out regionally and nationally, opening for notable bands such as Sick Puppies, Candlebox, Hinder, Vince Neil, Black Stone Cherry, Lynch Mob, Drowning Pool, Local H, Trapt, Metallica, Dokken, Scott Stapp Of Creed, Avenged Sevenfold, and Buck Cherry. It was on one of these tours that the band caught the attention of Los Angeles based writer/producer, Chad Gendason.  The band felt an immediate comradery with Chad and a lasting bond was made. Messer started writing with Chad, and their first collaboration became "Simple Man." Fan favorite "Whiskey" soon followed and the songs started to flow into what would become their self-titled debut album "Messer". The album was mixed by Ben Grosse (Marilyn Manson, Breaking Benjamin, Disturbed) and mastered by Tom Baker (Papa Roach, David Bowie, Motley Crue). 
2018 is shaping up to be the year that Messer cuts through the noise and clutter of the Rock & Metal world and makes it mark.
Watch "Save Myself" video here: