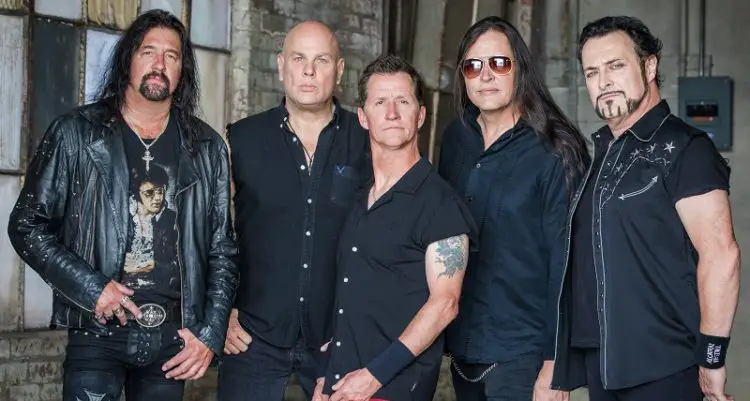 In a new interview with Australia's Heavy magazine, METAL CHURCH vocalist Mike Howe praised MEGADETH for being very gracious to them.
When asked how METAL CHURCH ended up as part of MEGADETH's forthcoming Megacruise, Howe responded:
"We were asked by MEGADETH to do it, and their agent, too. Since my return to METAL CHURCH, the band that has been very gracious to us and helped us out, is MEGADETH. The two Daves [Mustaine and Ellefson] have been gracious to us, to let us open for them on their tour of the States in the fall of 2017.
"Then when we did some shows in Oslo, Norway and Denmark, they let us open for them at a couple of shows there. Like I said, the two Daves have looked at METAL CHURCH and the whole '80s metal scene as something they want to help perpetuate and keep attention on. They're very altruistic that way."
On whether he enjoys taking part in the various metal-themed cruises that have popped up of late, Mike said:
"The first time for me back in the band, the previous singer [Ronny Munroe], they went on the 70,000 Tons [Of Metal] in '09…I can't remember exactly. They did a cruise, so the first cruise for me when I came back was the Monsters Of Rock cruise in 2016, March, then we did 70,000 Tons in 2017. To be honest, when Kurdt brought it up to me, saying, 'We've got this cruise they're offering us.' I was scared. [Laughs] Back in the day, honestly, I was a little bit overwhelmed by fans. I was a little bit shy and a little bit reclusive.
"I like meeting fans, but I like to also when I'm done meeting them, get away and have my private time. So I was a little bit leery of this, going on a ship where you can't get away from fans. But I was totally wrong, and I loved it. I'm a totally different person now. I just love being around the fans. They're very gracious. Heavy metal fans are the best fans in the world. I'm just lucky to be part of the scene and have the fans keep us alive."
METAL CHURCH released their 12th full length studio album Damned If You Do via Nuclear Blast Records on December 7th, 2018. The latest release is the follow-up to their highly successful 2016 album XI, which saw the return of legendary frontman Mike Howe. Damned If You Do is a cross between the band's iconic Blessing In Disguise and The Human Factor.