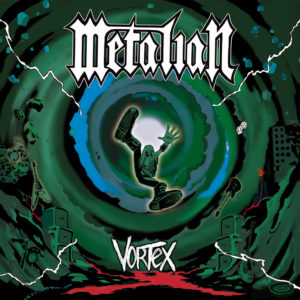 Ah, I can't help it telling you the pleasure I feel every time I listen to a band like Metalian with their "Vortex," an album that owes nothing to its 1980s peers. Even better, time has given Metalian the oportunity of refleting of all mistakes and flaws that NWOBHM bands commited in order to avoid them. The outcome is an album full of lust, desire, adrenaline, high-octaned riffing, inspired guitars, and much more that I'm a bit lazy to write here. "Vortex" is one of the most exciting albums I've heard in those three years of writing reviews here at Metal Addicts. The impression I get is that Metalian guys thought "We'll write only exciting and high-octaned songs for the album." It seems easy, but, in fact, it's not. all eight tracks contained in "Vortex" are for high jawbreaking and headbanging songs what makes it hard to select or pick only one of them.
Listing to "Vortex" is not a mere travel through time, it is much more because the music Metalian offer is in no way dead or stuck. It is very much alive. To prove that is the enourmeous quantity of bands with the same proposal that we've been receiving here. Another highlight is the instrumental competence that Metalian show especially in tracks as "Land of the Brave" where we it is possible watch with our mouths watering the inspired instrumental in the middle of it where the guitars do whatever makes us proud. The same to the riffing and harmony of the following "Liquid Fire" which is groundbreaking and extremely exciting.
Of course, a ton of bands comes to mind when we here to Metalian "Vortex" as long as it is impossible not to due to the kind of music they chose. But, in my opinion, that's not a problem at all. On the contrary, it shows a band that learned from the past and from the best. "Vortex" is the kind of album that looks for the past but aims to the future. Tracks as "Prologue" and "The Sirens" give us a quick and efective presentation card to the band and everything they got. Better yet, things get even better throughout "Vortex" and its eight tracks. Really an album to remember.
Metalian "Vortex" was released on July 12th via High Roller Records.
Track Listing:
Prologue
The Sirens Wail
Full Throttle
Vortex
Land of the Brave
Liquid Fire
Broke Down
No Home
Watch "Vortex" official video here: