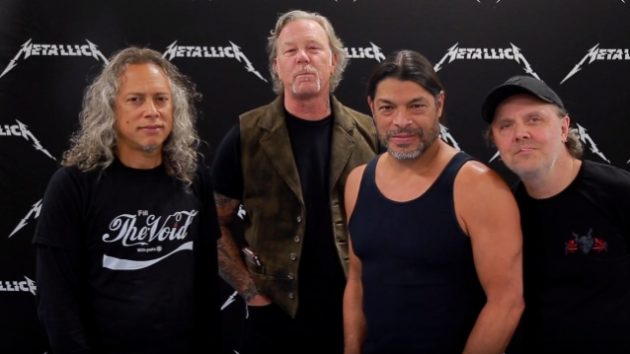 In an interview with the SF Chronicle, METALLICA drummer Lars Ulrich talked about the band's upcoming "S&M 2" shows in San Francisco, which will see the metal legends team up with the San Francisco Symphony once again next month, 20 years after the original "S&M."
When asked why that don't do "a straightforward METALLICA show," Lars replied: "You mean, 'Why not take the easy way?' Two words: San Francisco. It's that simple.
"When we're home, we've got to do something above and beyond. There's a creative element to this collaboration that we really appreciate and we're really thankful for.
"It's been ramping up for the past few months. There's been lots of emails and phone calls and musical prep. So, yes, we're not taking the easy way out of this one."
Talking about the setlist, he says: "I guess there's a part of me that wants to say, 'Wait and see.' But anybody that knows METALLICA would know that we are going to mix it up.
"I don't want to get into too many details of what we're going to do. The surprise factor isn't one we get a chance to utilize too often anymore, but people that know METALLICA know that 20 years later we can't resist the urge of mixing it up and adding some twists and turns to it."
"S&M 2" shows will take place on October 6th and 8th. Tickets are available at this location.
In April, guitarist Kirk Hammett has revealed that he has "a ton of material" written for next METALLICA album in a recent interview with Australia's Mixdown magazine.
He said: "When I was 13-14 years old, bands put out albums every year. Seriously, KISS put out an album every eight months. None of this eight years between albums.
"None of us are very comfortable with the fact it's been so long, because that is a long time," he continued. "We're hoping to avoid that this time around.
"We're in our third year since 'Hardwired'. Maybe we can get a bit more focus and go into the studio a bit sooner. I have a ton of material. I've over-compensated, so I'm ready to go anytime."
Also, METALLICA bassist Robert Trujillo said the band's next studio album would arrive "a lot sooner than the previous two did:
"This time around, I think we'll be able to jump on it a lot quicker and jump in the studio and start working. We've all vowed to get this one going sooner than later. Now, how soon? I don't know.
"We've been touring non-stop. It's been over two years now. At some point, sure, we'll need to take a little bit of a break. It's sort of the right thing for us to do because we've been going so hard."
METALLICA's latest album Hardwired… to Self-Destruct debuted at number one on the Billboard 200, selling 291,000 album-equivalent units in its first week, of which 282,000 were pure album sales. The remaining 9,000 units comprised 34,000 song purchases and 9.3 million streams. It was the third-largest debut of the year in the US on pure sales, behind Drake's Views  and Beyoncé's Lemonade. 
The album slipped to number 3 on the Billboard 200 in its second week, selling 75,000 units, including 71,000 copies. Hardwired… to Self-Destruct was the best selling heavy metal album of 2016 in the US and seventh overall, with 516,000 copies sold by the end of December.