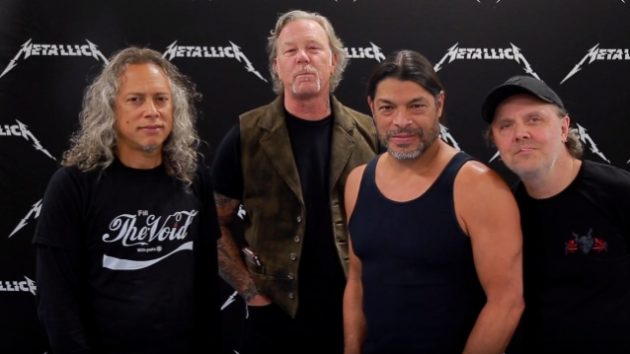 New report has surfaced revealing a representative for METALLICA conspired with Live Nation to place up to 88,000 concert tickets directly on the resale market. 
Billboard has obtained a taped conversation between METALLICA associate Tony DiCoiccio and Live Nation president of U.S. concerts Bob Roux discussing the scheme in detail.
Billboard reports the recording was made in February 2017, shortly before METALLICA launched their WorldWired tour in North America. The call depicts Roux's frustration in Ticketmaster's refusal to give tickets directly to resellers and his strategy to implement a ticket reselling scheme. The Live Nation president suggested, "Either a Live Nation employee or a venue box office basically take these and sell them into a singular account."
The report adds: "The recording, which would have been legal to make without one party's consent under both New York and Texas state laws, offers an unprecedented view into how thousands of concert tickets for major tours have been sold first on the secondary market – where resellers can mark up prices – without being offered to the public at face value.
"It also shows the extent to which the rise of online ticket sites has put pressure on artists and promoters to capture more of the profits resellers are making – and how Live Nation is uniquely positioned to help solve the problem, as the owner of the world's biggest ticketing platform that even its rivals use."
When confronted with the call, Live Nation admitted to quietly transferring concert tickets to resellers over several years, saying: "About a dozen artists out of the thousands we work with asked us to do this [between 2016 and 2017].
"Since then, requests like these have declined virtually to zero as tools like dynamic pricing, platinum seats, and VIP packages have proven to be more effective at recapturing value previously lost to the secondary market. Standard practice is to [now] use Ticketmaster's Platinum, VIP and other tools to help tours price closer to true market value."
"In this situation, a consultant for [METALLICA] opted to use the secondary market to try to capture that value."
DiCoiccio is described as being very close to the band, with another band rep commenting: "If there's five seats on the jet flying home, it's the band and Tony."