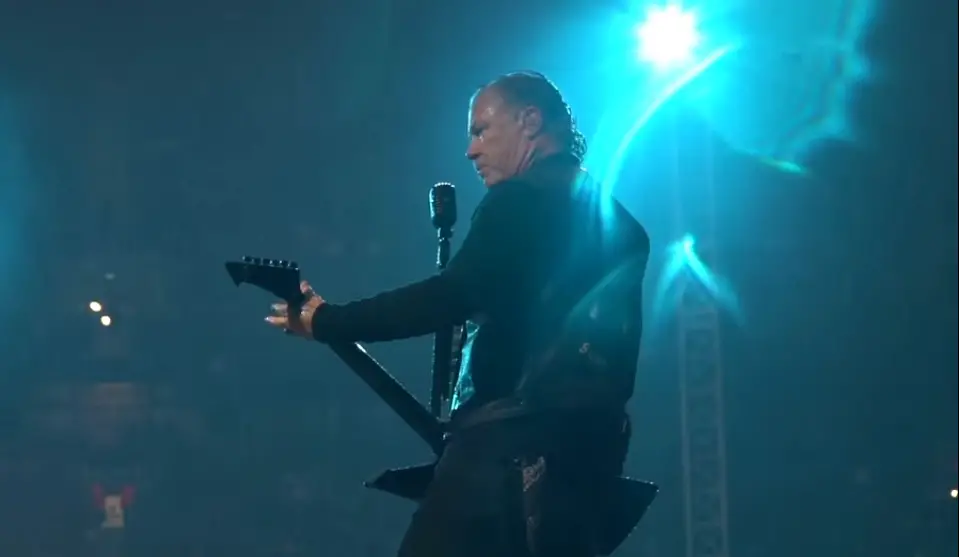 METALLICA has posted another video as part of its new concert series, "#MetallicaMondays," this time of their entire Manchester 2019 show, known for the torrential rain that accompanied the performance.
METALLICA bassist Rob Trujillo announced the show, saying: "June 18, 2019, it was a kicka—s show. My memories of it were pretty clear, it was the infamous rain gig, just pounding rain. Great for the photo op, but memorable, just very powerful to be playing out there.
"Sometimes those conditions bring this insane energy and the backdrop was pretty spectacular. Not the easiest gig to play, but pretty memorable," he continued. One thing I do remember is playing 'Disposable Heroes,' that was really cool. We don't play that one that much, but it's always a joy to play. It's one of my favorite METALLICA songs ever, super fun to play — it's got that groove, head-pulse, it gets you going.
"We also played 'The God That Failed,' which is another rare gem, and that's super-fun," he added. "Playing 'Revenge,' 'Here Comes Revenge' for, I think the first time, and that having that animation on the giant screen, super-cool.
"Jess Cope, the actual director of the video, the creator of all the imagery, she was out there in the crowd 'cause she lives close to Manchester, so that was really great for her to see it on those massive screens. It's a highlight moment.
"And 'Welcome Home (Sanitarium),' 'St. Anger' was even played, 'Lords of Summer' towards the end of the set, it was a great night."
You can watch the entire concert below.