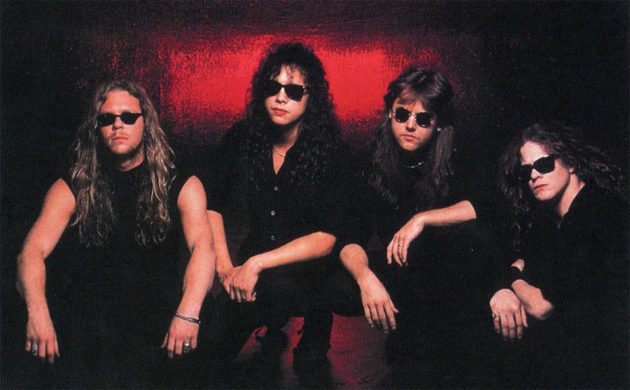 Classic METALLICA producer Flemming Rasmussen – who produced 1984's "Ride the Lightning," 1986's "Master of Puppets" and 1988's "…And Justice for All" – confirmed the band is working on a remastered version of "Justice," and that he's involved.
Flemming told Mitch Lafon (as transcribed by Ultimate-Guitar.com): "A remaster cut is coming out now. I'm actually in the process of sending stuff to Metallica and writing an essay about how it was recorded and what we did. The last year was the 'Master of Puppets' re-issue, and 'Justice' is gonna come out this November I guess. Same thing – vinyls, loads of CDs, rough mixes, all the demos and the works and big book and everything.
"I'm guessing that the main version, like the remaster thing, is gonna sound more or less as it did. But there might be alternative versions on there.
"I know for sure that nobody's asking me to remix it or anything and I'm pretty sure nobody asked Steve Thompson and Michael Barbiero to do that either. I think they're gonna go with the remastering thing; whether they're gonna stick more bass in there – I have no idea. But let's see when it comes out.
"It was all recorded on two-inch tape. And I edited it so much that I'm pretty sure they're all gonna fall apart if you start playing them now. You'd probably need to re-tape them together again. Whether or not somebody transferred that to digital, I have no idea. And the question is, when did they do that and what does that sound like. Because once you change the format, you're f*cked.
"But we'll see. Probably in November it's gonna be out. So we're working on that right now."
Asked if he would be offended if they call Jason Newsted to re-record parts, he responded: " "That is definitely not a solution. What they should do is – I mean, if they wanna do it – because they have the tapes, I know for sure that they have all the tapes…
"They would be salvageable for sure. You could actually stick it in there and do a new mix of 'Justice.' You can probably do a new mix of all the albums if you wanted to. That's just a question of deciding whether you want to do that or not.
"I would not do it if I was Metallica because that album was so iconic. So changing that would [mean], 'Oh well, we f*cked up.' And an album that has that status, I don't think you can go and say, 'Well, we f*cked up.' They did what they did and they stuck by it and that's it. It was just a fluke or whatever, or a joke, I have no idea what it was.
"But I think you should leave it the way it is because that is what changed the life of so many people in 1988. There's a whole genre of music that's inspired by '…And Justice for All.' So you can't go, 'Well, let's change it because we f*cked up. Sorry.'"
Remembering the first time he heart the infamous mix back in the day, Flemming said: "Imagine how I felt when I heard the mix. It made the guitars and the drums louder but it was still like, 'Really?' I thought they were joking with me when I heard it for the first time.
"I am probably one of the few people in the world who's ever heard Jason's bass playing on that album and it's actually really, really good. He was a hell of a good bass player, still is."
Asked if he also wanted his name removed from the credits like mixer Steve Thompson, Flemming replied: "No, no. I've done so many albums, I don't give a flying f*ck."