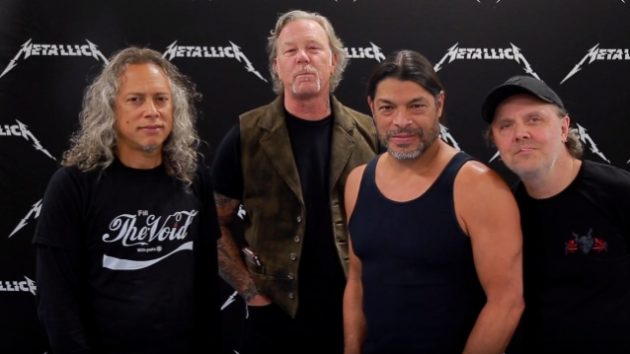 METALLICA will not stop selling their Blackened whiskey because of James Hetfield's alcohol addiction.
In 2018, METALLICA partnered with master distiller extraordinaire Dave Pickerell to create Blackened, a unique blend of straight American whiskey.
Now, METALLICA guitarist Kirk Hammett insisted that the band will keep selling their whiskey despite Hetfield's addiction.
Hammett is quoted by the Daily Star newspaper's Wired column as saying: "You can't compare the two things. James's struggle to get dry is a completely personal matter mentally and emotionally.
"The fact that we produce, bottle and sell alcohol is totally independent of this," he continued. "It is completely up to you whether you drink or not. And I think I can sell what I want. If I were a diabetic, that wouldn't mean that I couldn't sell sweets."
In a recent interview with Metal Hammer magazine, METALLICA's Kirk Hammett, Lars Ulrich and Robert Trujillo spoke what it was like seeing their bandmate and friend James Hetfield return to rehab last fall, which led METALLICA to postpone their Australia and New Zealand tour, so James could work on his recovery from alcohol addiction.
"We really didn't see it coming," Trujillo said. "James seemed like he was fine, but then you look back and you try to analyse the situation over time and see where there were red flags. 
"Being on the road can be very challenging, and I would imagine for James, to get up there in front of all those people and have to be 'on' meanwhile, your family's not with you and all these things are going on, it builds up."
Kirk added: "Whenever something happens to a band member like this, it's so deeply unsettling. It comes as a shock. You have to do a bit of scrambling just to cover some ground."
"I'm an only child, so these guys have been in my life longer than anybody else other than my parents," Lars said. "We know what the MO is. As you see your brothers, your friends, your partners go through ups and downs for decades, you know what the process becomes."