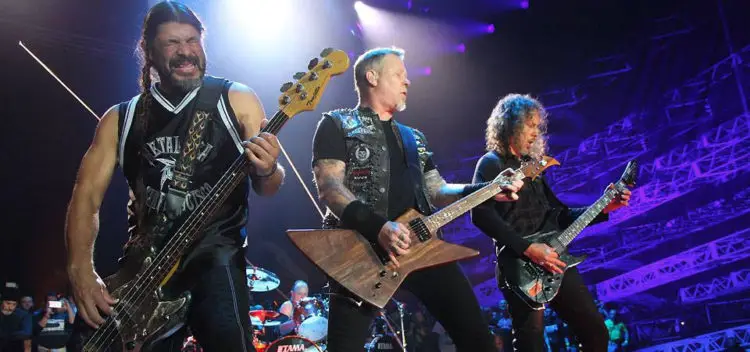 METALLICA's self-titled 1991 album (often referred to as The Black Album) has scored its 500th nonconsecutive week on the Billboard 200 chart. It is now one of only four albums with 500 weeks or more on the tally, Billboard reports.
Only three other albums have spent more time on the Billboard 200 chart since it began publishing on a regular weekly basis in 1956 — PINK FLOYD's "The Dark Side Of The Moon"(937 weeks), BOB MARLEY AND THE WAILERS' "Legend: The Best Of Bob Marley And The Wailers" (539) and JOURNEY's "Greatest Hits" (539).
The Black Album album marked the rock band's first No. 1 on the Billboard 200, when it debuted atop the list dated Aug. 31, 1991. The set spent four weeks on top, and marked the first of so far six chart-toppers for the group.
METALLICA's latest album Hardwired… to Self-Destruct debuted at number one on the Billboard 200, selling 291,000 album-equivalent units in its first week, of which 282,000 were pure album sales. The remaining 9,000 units comprised 34,000 song purchases and 9.3 million streams. It was the third-largest debut of the year in the US on pure sales, behind Drake's Views and Beyoncé's Lemonade. The album slipped to number 3 on the Billboard 200 in its second week, selling 75,000 units, including 71,000 copies. Hardwired… to Self-Destruct was the best selling heavy metal album of 2016 in the US and seventh overall, with 516,000 copies sold by the end of December.