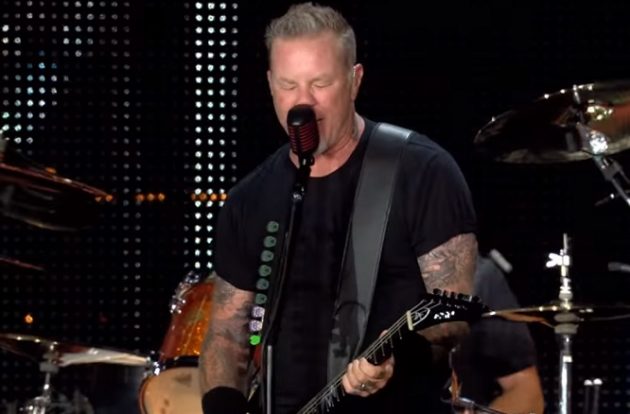 METALLICA marks the 30th anniversary of its self-titled fifth album — also known as The Black Album — with two landmark releases, both out September 10 on the band's own Blackened Recordings.
Speaking to Classic Rock magazine, METALLICA frontman James Hetfield reflected on his initial thoughts on song "Nothing Else Matters."
"What was it about not wanting to write a love song?" Hetfield asks rhetorically. "That's pretty easy. It's a huge sign of weakness. You're in METALLICA. This is hardcore. What the f*ck are you doing?"
"But that song was for me," he continues. "It's about being on the road, missing someone at home. But it was written in such a way that it connected with so many people. It wasn't just about two people. It was about a connection with your higher power, lots of different things."
Guitarist Kirk Hammett adds: "All I could think of at the time was, 'James wrote a f*cking love song to his girlfriend? That's just weird.' James always wanted to be perceived as this guy who is very confident and strong. And for him to write lyrics like that — showing a sensitive side — took a lot of balls."
The Black Album is one of the most commercially successful and critically acclaimed records of all time. Its 1991 release not only gave METALLICA its first No. 1 album in no fewer than 10 countries, including a four-week run at No. 1 in the U.S., its unrelenting series of singles — "Enter Sandman", "The Unforgiven", "Nothing Else Matters", "Wherever I May Roam" and "Sad But True" — fueled the band's rise to stadium headlining, radio and MTV dominating household name status. The album's reception from the press was similarly charged, building over the years from the top 10 of the 1991 Village Voice Pazz & Jop national critics poll to becoming a constant presence in the likes of Rolling Stone's 500 Greatest Albums Of All Time. The album's impact and relevance continue to grow — as proven by one indisputable fact: The Black Album remains unchallenged as the best-selling album in the history of Nielsen SoundScan, outselling every release in every genre over the past 30 years.