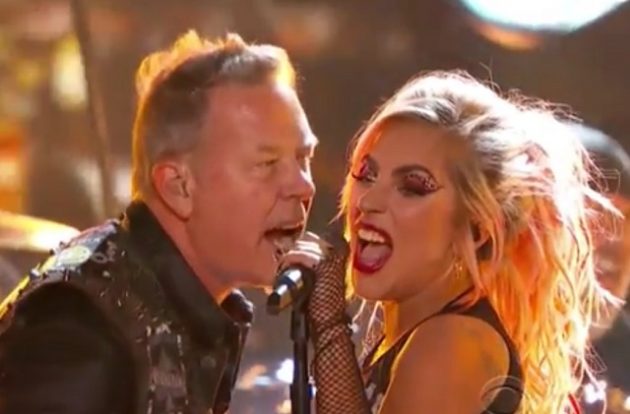 In an interview with Chilean newspaper La Tercera, METALLICA frontman James Hetfield spoke about the band's collaboration with Lady Gaga and shared his thoughts about the performance and his mic cutting out.
"The actual show, live on TV, I was very angry, yes," Hetfield said. "All the rehearsals, everything was perfect; up to there, everything was working. But, you know, out of my control. Something happened… I don't know what happened. But the silver lining is that Lady Gaga and me were singing closer, and [there] was a little more collaboration. She's an amazing person — very talented."
Asked about the possible collaboration with Lady Gaga in the future, Hetfield: "No. But even just talking with her, being around her, her energy was very, very exciting. She has lots of ideas, and she likes to push the boundaries like we do. So it was a good fit."
METALLICA's latest album, Hardwired… to Self-Destruct was released as a double album on November 18, 2016 by their vanity record label Blackened Recordings. It is their first studio album in eight years following Death Magnetic (2008), marking the longest gap between two studio albums in the band's career. It is also their first studio album not to feature songwriting contributions from Kirk Hammett since he joined the band in 1983, and their first studio album released through Blackened.