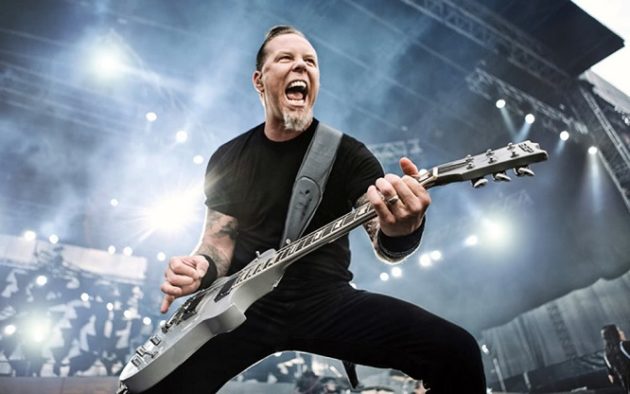 Andy Hall of the Des Moines, Iowa radio station Lazer 103.3 conducted an interview with METALLICA frontman James Hetfield before the band's June 9 concert in Newton, Iowa. You can now listen to the chat via the SoundCloud widget below.
James Hetfield opened up on his stance about online comments regarding his music, telling Lazer 103.3(via Blabbermouth):
"I've got tons of friends that are either musicians or artists or someone who are creative and putting stuff out there.

"I just tell 'em, 'Don't read the comments – just don't. Unless you're feeling a little more secure in yourself these days.'

"'Cause most of us artists are pretty fragile, insecure people, and we get up there and the music makes us feel strong and good.

"But other times when people… someone says something about the lyrics, and it's just, 'Ouch! That went right in my heart, dude!'

"So I tell you, when you read that stuff, you can't believe it – you just can't.

"Most people – it's really easy just to hit 'Send' – I know that.

"But we also do get a lot of great comments out there that kind of work themselves out. It's like throwing a couple of pitbulls in a room – they work it out.

"Especially on the Metallica site, they have people… it goes back and forth. And as long as there's passion, that's all that matters, really."
METALLICA's latest album, "Hardwired… To Self-Destruct", was certified platinum on April 12 by the RIAA (Recording Association Of America), meaning every one of their studio albums has reached or surpassed this milestone.
"Hardwired… To Self-Destruct" debuted as expected at No. 1 on The Billboard 200 album chart last November, selling 291,000 copies in its first week of release. Both of the band's previous outings, 2008's "Death Magnetic" and 2003's "St. Anger", sold more copies in shortened sales weeks. "Death Magnetic" moved 490,000 copies in a three-day window, while "St. Anger" shifted 418,000 copies in a similar frame.