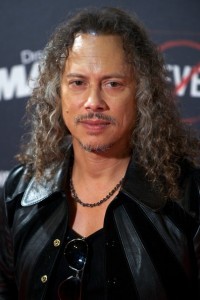 In a brand new interview with Finland's MTV, METALLICA guitarist Kirk Hammett said that he still stands proudly behind "Lulu", the band's controversial collaborative album with former THE VELVET UNDERGROUND frontman Lou Reed.
"Lulu" polarized fans around the world and earned METALLICA some of the most scathing reviews of its career. The effort featured the former THE VELVET UNDERGROUND frontman's spoken-word poetry and lyrics combined with METALLICA's musical assault for a jarring experience that didn't sound like anything METALLICA had ever attempted before. A concept album based on two early-20th-century plays by German author Frank Wedekind, the CD was co-produced by Reed, METALLICA, Hal Willner — who has produced albums for Reed, Marianne Faithfull, and Laurie Anderson, among others — and Greg Fidelman. Fidelman also mixed the record.
"When we were recording with Lou, it was the first time we were actually ever recording with someone outside the band, and so, we were a little bit nervous about how it would turn out," Hammett recalled. "But Lou guided those sessions; I mean, his personality came through."
He continued: "We came to the project as [Lou's] backing band. And it was really interesting for us 'cause… [Normally] we would learn the song and we'd play it at least 30 times — at least 30 times — before we recorded. And that's, you know, conservative. With Lou Reed, we would learn the song, do two or three passes, and in those passes, I would be playing the songs thinking about what I was gonna be playing on the next pass, solo-wise or just guitar part-wise. And we'd play it, and we'd end the song, and Lou would say, 'Great! Next song.' And we're, like, 'Huh?! Wait, I didn't even work out my guitar parts fully.' And Lou would say, 'Oh, it sounds great. Don't worry about it.' And when I tried to put in a guitar solo, he said, 'No guitar solos.' I'm, like, 'OK, this is gonna be interesting.' And so, after that night [when] he said 'No guitar solos,' I wrote him a long letter about how I think guitar solos are important in music. They don't belong in all songs. They're a nice break, dynamically. It all depends on who the guitar player is. Basically, I had to sell Lou Reed on the two guitar solos that are on the 'Lulu' record."
Hammett said that he looked back fondly on the "Lulu" writing and recording sessions, calling it "an amazing experience." He added: "To see Lou in action at that point in his life when his health wasn't so good, he didn't have a lot of energy, to see him in action and to see that mind thinking, it was amazing. It was such an amazing thing for myself, 'cause I'd been a Lou Reed fan ever since I can remember, and to be just in the same room with him, talking to him and hearing that voice talking to you…. pretty, pretty amazing. And I will never forget it."
According to Kirk, he is unfazed by the fact that most of METALLICA's fans found "Lulu" to be virtually unlistenable, saying "I love that album to death. It's unfortunate that other people don't see it the same way as I do, but what can I do about it? I can't do anything about it. I can just keep on loving it. And if people like it, great. If people don't like it, that's great too. It's only music."
In a 2012 interview with Spin, METALLICA drummer Lars Ulrich admitted that the band was caught off guard by the vehement reaction to "Lulu", saying, "It was more spiteful than anyone was prepared for. Especially against Lou. He is such a sweet man. But when METALLICA do impulsive riffing and Lou Reed is reciting abstract poetry about German bohemians from 150 years ago, it can be difficult to embrace."
Asked whether the band had second thoughts over some of Reed's lyrics, like "I swallow your sharpest cutter / Like a colored man's dick," Ulrich said, "I understand that to some 13-year-old in Cape Girardeau, Missouri, it can all seem a little cringe-worthy, but to someone raised in an art community in Copenhagen in the late '60s, that was expected."
More surprisingly, Ulrich also revealed that he and Reed almost got into a physical altercation while making "Lulu". He recalled, "One time I had to point something out to him about how things were functioning in the outside world and he got hot and bothered. He challenged me to a street fight, which is a pretty daunting proposition because he's an expert in martial arts and is never too far from a sword. The good thing about me is I can do the 100-meter dash faster than most other 48-year-old musicians."
The collaboration between METALLICA and Reed was sparked by their performance together of Reed's "Sweet Jane" and "White Light/White Heat" at the 25th anniversary of the Rock And Roll Hall Of Fame at Madison Square Garden in October of 2009.
The songs were all written by Reed with extensive arrangement contributions by METALLICA.
Only two songs on the album are under five minutes in length, while two are more than 11 minutes long and the closing cut, "Junior Dad", clocks in at 19 minutes.
Reed died in October 2013 at the age of 71, five months after he had a life-saving liver transplant, according to his wife, Laurie Anderson.
Source: Blabbermouth