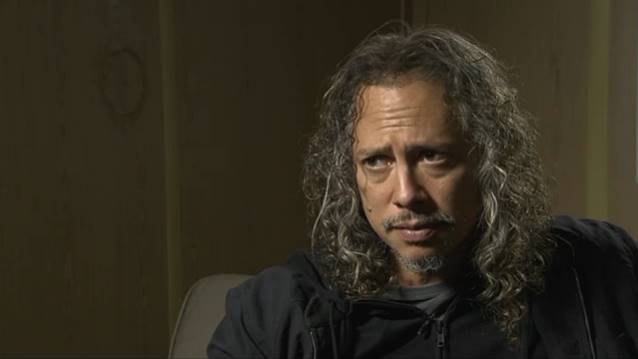 METALLICA guitarist Kirk Hammett was interviewed on the July 10 edition of Jason Bailey and "Southside" Steve Rickman's show, which airs on Atlanta, Georgia's Rock 100.5 radio station. You can now listen to the entire interview below.
Asked if it ever gets old being a millionaire, Hammett responded: "You know, it just comes with a whole bunch of different problems, bro. And you know what? I'm not very good with saving money. [I spend it on] comic books and movie posters and horror stuff and guitars. I live my life. I just f*cking live my life. And I'm generous. The people who are around me experience what I'm experiencing while I'm experiencing it."
METALLICA's latest album Hardwired… to Self-Destruct debuted at number one on the Billboard 200, selling 291,000 album-equivalent units in its first week, of which 282,000 were pure album sales. The remaining 9,000 units comprised 34,000 song purchases and 9.3 million streams. It was the third-largest debut of the year in the US on pure sales. The album slipped to number 3 on the Billboard 200 in its second week, selling 75,000 units, including 71,000 copies. Hardwired… to Self-Destruct was the best selling heavy metal album of 2016 in the US and seventh overall, with 516,000 copies sold by the end of December.
It became the highest selling debut of the year in Germany with more than 200,000 copies shipped in its first week, earning a platinum certification. Hardwired… to Self-Destruct had the biggest opening week of 2016 in Australia with 26,000 copies sold, debuting at number one on the ARIA chart. Overall, the album was number one in 57 countries, entered the top three in 75 nations and the top five in 105 countries.
On April 12, 2017, the album went platinum. Since July 7, 2017 the album officialy sold more than 1,004,000 copies in the United States. The former No. 1 set is the band's 12th album to sell at least a million copies since Nielsen Music began tracking sales in 1991.