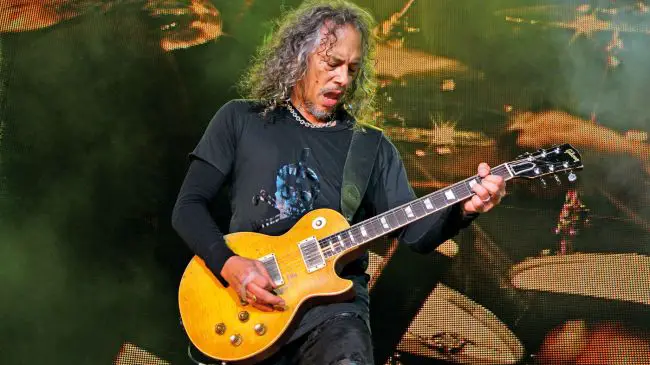 In a recent interview with City Beat, guitarist Kirk Hammett discussed the state of METALLICA and music in general right now.
He said: "I think for right now, there's a little bit of a vacuum [for] us and bands that sound like us. There are a lot of great new bands out there, but I think people yearn for something that they know is made in a real sense.
"I think there's a bit of authenticity that comes with us that might not be attached to some of the more contemporary bands. We can be counted on to deliver in some form or another something that's real and authentic and something that has integrity.
"I think that really means a lot to some people these days when a lot of music is just kind of like made by pressing a button… People can count on us showing up with our instruments and actually making music right there in the moment.
"And we deliver. Whatever you hear on our album, we can play live. I will not even try to count how many bands are incapable of that. I think that's part of it."
Remembering the band's early days, Kirk later said about their ever-present "outsider mentality":
"I think, at the beginning, it was an attractive thing for the three of us, and for Cliff, too. That's something we saw in each other, and when we made music, we always kind of saw ourselves as a band that was on the outside looking in at all the other bands."
Despite the group's commercial success, Kirk pointed the guys still stayed true to themselves, saying:
"I don't think that's ever going to go away, even though we're probably one of the most successful bands in the world – definitely one of the most successful heavy metal bands.
"Maybe that's part of what drives us. That outsiderness shapes our musical thinking. I think it plays a big part in our overall attitudes and perspective."
Discussing METALLICA's "return to roots" approach to their latest album Hardwired, Kirk said:
"Certainly, with [2008's] Death Magnetic we learned that it was OK to embrace our past with sort of a revisionist approach. That's what Death Magnetic kind of started as. To an extent, it's continued with [Hardwired], too.
"We like to play music from all of the different eras, and at this particular point in our lives, playing the heavier stuff just is appealing to us. It feels right to me and it feels right to the other guys in the band."