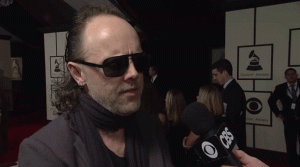 METALLICA has made a studio version of its new song, "Lords Of Summer", available at iTunes. Dubbed the "First Pass" version, the recording is basically a demo of the song that the band made before playing it live on its recent "Metallica By Request" tours of South America and Europe. The studio version was also scheduled to air on ESPN over the weekend.
The "By Request" tour featured the band playing 17 songs requested online by fans in each city, with the final slot in the set list taken by "Lords Of Summer".
Drummer Lars Ulrich told U.K.'s Metal Hammer about "Lords Of Summer": ""It's fun to play. It seems like the kids are enjoying it. There was actually somebody in the 'Snake Pit' the other day with a homemade 'Lords Of Summer' t-shirt on, which was very endearing; that was cool.
"It's fun, yeah. It's a good song. Hey, listen, who knows by the time the next record comes out whether it will be in its same shape or format. But's fun to play. And I think it's going down well, from what I can tell, from my little spot.
"In the past, when we've played new songs, they didn't even have, like, lyrics sometimes; it's been, sort of, just rough words and [James] Hetfield [METALLICA frontman] has been, sort of, semi-making it up as he went along. We didn't even have songtitles, I think. On the '06 tour, we played 'New Song 1' and 'New Song 2' — they were brilliantly titled. I think this song is a little further along in terms of it being, sort of, together, so we're quite comfortable playing it. It's kind of written for this tour. It's called 'Lords Of Summer' and it's kind of about being outdoors and festivals and all this stuff. And here we are getting into the summer and it's not raining too much and, apart from Finland, it's nice and warm."
Ulrich recently told "Metal Zone" about the status of the band's next record, "I'm pretty convinced that 90 percent of the record is actually written, it's just gotta be kind of assembled between all those riffs. It's just a matter of connecting this to this and sort of shaping it into a song."
METALLICA headlines England's Glastonbury festival next Saturday (June 28), making them the first metal act in the event's 44-year history to top the bill.
The "Metallica By Request" tour is hitting Europe this summer, with a single North American date confirmed in Montreal.
Ulrich said that U.S. fans might get to experience "Metallica By Request" either next year or in 2016, depending on when the band's new album is finished.
Source: Blabbermouth