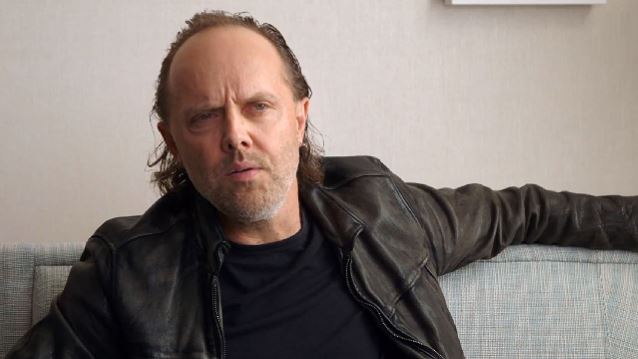 In a new interview with Rolling Stone, Lars Ulrich talked about METALLICA's upcoming album,  Hardwired … to Self-Destruct, which is out November 18, but is still not done yet.
"Rob [Trujillo] is still downstairs right now redoing the bass and one of the verses on one of the songs," Ulrich says. "People go, 'What do you think of the record?' And I don't even know because it's not even done yet. It's been kind of a mindfuck this whole week."
Last said that they should be done mixing the album this weekend. While the most of the songs were written in the late 2014, and early 2015, he said the single, "Hardwired" was the last song they wrote: "A couple of months ago, we were sitting there taking stock of the record and thought maybe we should write one more fast, little crazy song, and that became "Hardwired." It just kind of happened. I think James [Hetfield] and I wrote and recorded it in less than a week, which, for us, is basically a nanosecond [laughs]."
He also said that band's first record Kill 'Em All inspired the new album: "We did play Kill 'Em All in its entirety at the Orion festival in Detroit in 2013. That was the first time I really got into that record. Early on, I was dismissive of that record because Ride the Lightning and Master of Puppets may be a little more intellectually stimulating and challenging – they were deeper records – and it wasn't until 2013 when we played it that I realized Kill 'Em All had a cohesiveness. It had its own thing with the speed, but it's simpler – the songs are longer but not quite as progressive. It's a world all its own. And I think there are some elements of that that rubbed off into this. I'd say there's a trace of residue from rediscovering Kill 'Em All that crept into the songwriting."
Read the entire interview at this location.
Hardwired … to Self-Destruct is produced by Greg Fidelman, along with James and Lars, this is their 11th studio album and is available for pre-order in a variety of configurations including 12 songs on a double CD, vinyl, digital download, as well as a deluxe version with the riffs that were the origins of the album. Everyone who pre-orders the album through Metallica.com will receive an instant download of the song "Hardwired."
Here is the track listing:
Disc One
Hardwired
Atlas, Rise!
Now That We're Dead
Moth Into Flame
Am I Savage?
Halo On Fire
Disc Two
Confusion
Dream No More
ManUNkind
Here Comes Revenge
Murder One
Spit Out The Bone
Disc Three (deluxe edition only)
Lords Of Summer
Riff Charge (Riff Origins)
N.W.O.B.H.M. A.T.M. (Riff Origins)
Tin Shot (Riff Origins)
Plow (Riff Origins)
Sawblade (Riff Origins)
RIP (Riff Origins)
Lima (Riff Origins)
91 (Riff Origins)
MTO (Riff Origins)
RL72 (Riff Origins)
Frankenstein (Riff Origins)
CHI (Riff Origins)
X Dust (Riff Origins)