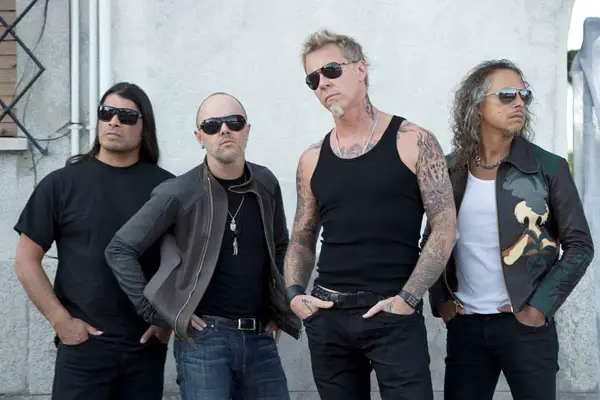 According to Germany's top-selling daily newspaper, Bild, METALLICA's new album could arrive on October 14. Although, the release date has not been confirmed by their record label, Universal.
METALLICA bassist Robert Trujillo was recently asked by So What! magazine if he can give a little preview of anything from the studio, he said: "Yeah, yeah. HQ is an active METALLICA new album machine right now. I can say James and I had a blast doing back-up vocals last week, it was probably the most fun I've had during this album cycle; I wouldn't even call that work. It was just super fun blasting out those choruses. He had a big smile on his face and so did I, so that's something that I'll always remember, because I don't think I've ever done it on that level. I mean, we've done a couple things here and there, but that was a first for me, to be in the vocal booth with him. It was pretty cool. So I feel great. The bass sounds are crushing. I would say they're the best bass sounds that I've had with this band, for sure, and already for me that's a plus. I'm very proud of what Greg [Fidelman, producer] has done with the sound of my instruments, and I'm also proud of the way I played. We've had fun."
He was also asked if he thinks James and Lars feel lucky to have his "flow" energy in the band. "I think so. I know it's important to James. I think there is a level of respect from him in knowing I'm staying on my game, so to speak, and that I'm happy. I think that's important to him that Robert Trujillo from METALLICA is happy with what he's doing as a musician, and that he's happy with what he's doing as a musician in METALLICA. But he also respects where I come from and what I did, and he likes the INFECTIOUS GROOVES music. He likes my style with that band. Not to say that that style specifically with the INFECTIOUS GROOVES is the style that's supposed to exist in METALLICA. No. It's not about that, he's more interested in celebrating what was good about SUICIDAL or INFECTIOUS in the same way Lars is. I think one of his favorite top ten albums quite possibly might be 'The Art Of Rebellion' by SUICIDAL TENDENCIES, you know? He turned me back on to that album, okay? I forgot about that record. And he was talking about the record, about this one song, and I didn't know what one he was talking about because it had been so long. And then he had Kent [Matcke, METALLICAengineer] put it on the PA system in the studio, and then I'm listening to it going, 'Oh, s**t. Yeah, that is good.' All of a sudden, it's coming back to me. And then what's funny is, I'm driving home from the studio about an hour later and then I realize that I wrote the song. I didn't realize that it was actually a song that I'd written."
Band's latest album, Death Magnetic debuted at #1 on the Billboard 200, selling 490,000 copies in just three days of availability. It is the band's fifth consecutive studio album to debut at #1, making Metallica the first and, to date, only band to have five consecutive studio album releases to do so. The album marked the highest first week sales for the group since 1996's Load.