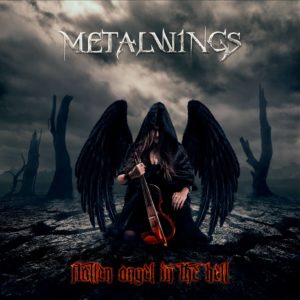 Maybe I am too weird even for the Metal world because I can go from the partiest and most glamorous hard rock band to the sickiest grindcore act. And everything in between. I am truly honest when I write here that I liked a band. My personal taste is vast in terms of Metal. It reflects my personal postion towards music and life. Metal is my life, and my life is Metal and everything related. Everything about Metal background is my interest, so I like the blues. There is no way of denying that the blues is still a very strong part in Metal. I can say the opposite about classical music. Not really my thing. But when it comes to its contribuition to Metal, I am in.
This Metalwings with "Fallen Angel in the Hell" fulfills satisfactorily the classical part with a bonus. And the bonus is vocalist Stela Atanasova. I have written here many times that I just love female voices in Metal. The point is the contrast between female voices with distorted guitars is a killer. Female voices and Metal sonance are a perfect marriage. Not to mention the beauty of Stela Atanasova's voice. Take a song like "Immortal Metal Wings" for instance. The combination between the hard and rispid guitars and the whispering and absolutely correct voice does magic. Life is made of contradictions so says the master Engels. Metalwings are a band full of them. I only regret the fact the guitar is a bit shy on solos.
"Fallen Angel in the Hell" is an EP with five tracks which are linear. There is not so much difference among them. It is the band's choice. For our's sakes "Fallen Angel in the Hell" does not fall into the mistake of watering so much the songs as some bands do. Stella's magnificent and girly – no offense in that, please – voice already does that, so no need for watering any more. The male/female vocal duet in "Crying of the Sun" gets very good in the picture. Also, "Crying of the Sun" features a guitar solo, so rare in "Fallen Angel in the Hell."
Another highlight in "Fallen Angel in the Hell" are the keyboards. The dude follows marvelously John Lord's legacy taking the lead in all songs. Let's praise the guy.
Well, boys and girls, if you are really into Metal music, you must give Metalwings "Fallen Angel in the Hell" a try. You will not regreat. Good Metal music.
Metalwings "Fallen Angel in the Hell" was released on May 12th, 2016.
Track Listing:
Fallen Angel in the Hell
Slaves of the Night
Ship of Shadows
Immortal Metal Wings
Crying of the Sun
Watch "Crying of the Sun" official video here: