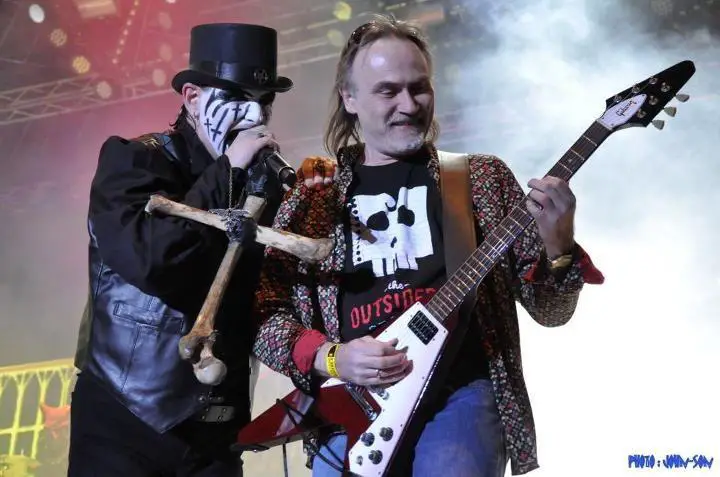 Jimmy Kay from Canada's The Metal Voice recently spoke to original MERCYFUL FATE guitarist Michael Denner.
Denner spoke about his new band DENNER's INFERNO and new album In Amber that will be released November 15 2019 on Mighty Music. He also spoke about not being invited to the upcoming MERCYFUL FATE reunion, and the making of the classic MF albums, Melissa and Don't Break the Oath.
When asked about the musical direction of his new album In Amber:
"I have always been an old school fan of heavy rock of the early 70's , which is the main part of my record collection which is 3000-4000 albums from these bands of the early 70's.
"I have done tons of heavy metal albums but this time I wanted to do what I was a fan of as a collector. So on this album I added in a 70's vibe and tried to record the songs the way it was done in the old days and I think we achieved that we captured that organic rock sound.
"A BLUE ÖYSTER CULT vibe which  is one of my favorite bands and there are also elements of MERCYFUL FATE. I cannot run away from my past from what I have been doing from the 80's. I wanted it to be 70's but not outdated. "
Speaking about new singer Chandler Mogel and his singing style on the new album, he said: "My aim was not to have a screamer (nothing wrong with screamers) this time around. This time I wanted something different. Chandler is a fan of URIAH HEEP's David Byron and DEEP PURPLE singers. Chandler has this very melodic vocals and a broad range and he sings very emotional. "
When asked about his feeling towards not being invited to the upcoming MERCYFUL FATE reunion: "MERCYFUL FATE did two albums before they folded and laid it to rest over 20 years ago. So it seems they wanted to continue with the same lineup before it folded. But what surprised me I didn't know anything about this reunion until two days before it was officially released.
"Somehow in there it looked like it was supposed to be the original line-up with the songs from the first three albums. That took me by surprise because I was very much apart of these albums.
"I felt a bit sad about it. But then again I felt happy on what I am doing now. If this is what Shermann and King want to do I cannot force them to bring me in the band . I wish them best of luck and I want to move on doing my own stuff. 
"I think it is Metal Blade Records who own the rights to the name MERCYFUL FATE. I don't want to make a big deal, I was a big part of the MERCYFUL FATE history but I cannot force them to change their mind. "
He also spoke about his relationship with guitarist Hank Shermann in regards to this reunion: "That was the big surprise, I didn't expect Hank to just keep quiet about the reunion, that was a big shock.
"I lost contact with King years ago we had some differences, small arguments. So I didn't expect King to call me for the reunion but Hank it's a different story because we were working very close together for a long time. Hank even helped me with my new album, he did some of the guitar recordings and helped with the artwork."
When asked if they called him up tomorrow to join the reunion would he participate: "It would be very hard, it would not be enough. I would need some serious explanations. That is a hard question to answer because my feeling were a bit hurt when it occurred  3-4 weeks ago, so now I am healing. But also this is perfect timing in a way cause my new album is being released. I have not said anything bad about Hank or King even though they disappointed me the way it happened. "
Speaking about former MERCYFUL FATE bassist Timi Hansen's health:
"He is doing better , we have been friends since we were 12 years old, he lives just a mile down the road from me. But now I do feel like things are going better for him. I think he is recovering.  I doubt if he will ever play bass again, he hasn't had a bass in over ten years he is not active anymore."