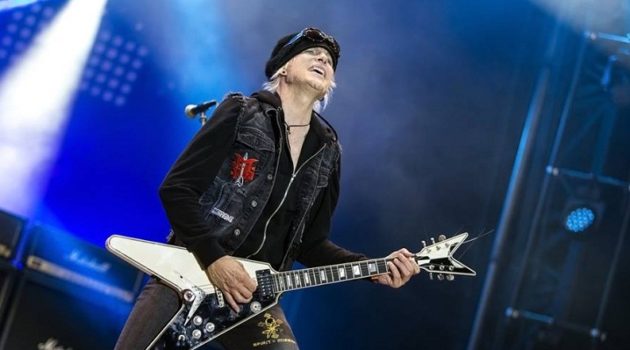 Michael Schenker is one of the most significant rock guitarists in the history of music. He has mesmerised the rock community since the 70's with his characteristic guitar play and contributed not only to SCORPIONS classics such as "Lovedrive", "Coast To Coast" and "Holiday", but also constructed himself a monument during his time in UFO by writing hits like "Doctor Doctor" and "Rock Bottom" among others. His playing has influenced several generations of guitar players enormously.
Now the time has come for Michael Schenker to move another step forward: He fulfills the long-awaited dream of all hard rock fans by etering the studio as MICHAEL SCHENKER FEST. The band have just started the recording process for a brand-new studio album with producer Michael Voss. Its release is set for spring 2018 through Nuclear Blast, the band's new record label.
Schenker commented: "I am very happy to have signed with Nuclear Blast Records and I am looking forward to releasing a killer MICHAEL SCHENKER FEST studio album in the spring of 2018. The album will bring together past and present in the form of 3 original M.S.G. singers –Gary Barden, Graham Bonnet & Robin McAuley – and the current MICHAEL SCHENKER'S TEMPLE OF ROCK vocalist Doogie White (ex-RAINBOW). Keep on rockin'!"
With this latest signing, a long-desired dream came true for the South Germany-based label. Owner Markus Staiger grew up with Michael Schenker's music and is also one of his greatest admirers. "I'm proud to be able to work with the ultimate guitar god, Michael Schenker. He has always been my idol and he's the reason why I started to play the guitar when I was 13 years old. But I was ungifted in that area, so I had to stop and decided to found a record label instead. It's a great day and I feel happy just like back in the day when I was listening to 'Lovedrive' and 'Michael Schenker Group' for the very first time, and went nuts! Thanks!"
MICHAEL SCHENKER FEST will be playing several shows this year, including two German performances at Bang Your Head!!! Festival and Capitol Offenbach.
MICHAEL SCHENKER FEST – Tour Dates:
MICHAEL SCHENKER FEST
featuring 3 original M.S.G. singers Gary Barden, Graham Bonnet and Robin McAuley
15.07. D Balingen – Bang Your Head!!! Festival
15.10. J Tokyo – Loud Park Festival
25.10. D Offenbach – Capitol
27.10. E Santander – Escenario Santander
28.10. E Pamplona – Auditorio de Burlada
29.10. E Barcelona – Razzmatazz
31.10. NL Zoetermeer – De Boerderij
02.11. UK London – o2 Shepherd's Bush Empire
03.11. UK Sheffield – o2 Academy
04.11. UK Manchester – o2 Ritz
05.11. UK Hull – City Hall
MICHAEL SCHENKER FEST
featuring 3 original M.S.G. singers Gary Barden, Graham Bonnet and Robin McAuley plus Doogie White (ex-RAINBOW, MICHAEL SCHENKER'S TEMPLE OF ROCK)
03/06 USA Silver Springs, MD – The Fillmore
03/07 USA Pittsburgh, PA – Carnegie Music Hall
03/09 USA Boston, MA – Berklee Performance Center
03/10 USA New York, NY – Irving Plaza
03/11 USA Philadelphia, PA – Theatre of Living Arts
03/12 CDN Montreal, QC – Club Soda
03/14 USA Detroit, MI – Royal Oak Music Theatre
03/16 USA Cleveland, OH – Agora Theatre
03/17 USA Chicago, IL – Concord Music Hall
03/18 USA Milwaukee, WI – Pabst Theater
03/19 USA Minneapolis, MN – Cabooze
03/22 USA Seattle, WA – Neptune Theatre
03/24 USA San Jose, CA – City National Civic Of San Jose
03/25 USA Anaheim, CA – City National Grove Of Anaheim
03/26 USA Phoenix, AZ – Marquee Theatre
03/27 USA Las Vegas, NV – House of Blues
03/29 USA Denver, CO – Cervantes Ballroom
03/31 USA San Antonio, TX – Vibes Event Center
04/01 USA Dallas, TX – Bomb Factory
04/03 USA Tampa, FL – The Ritz