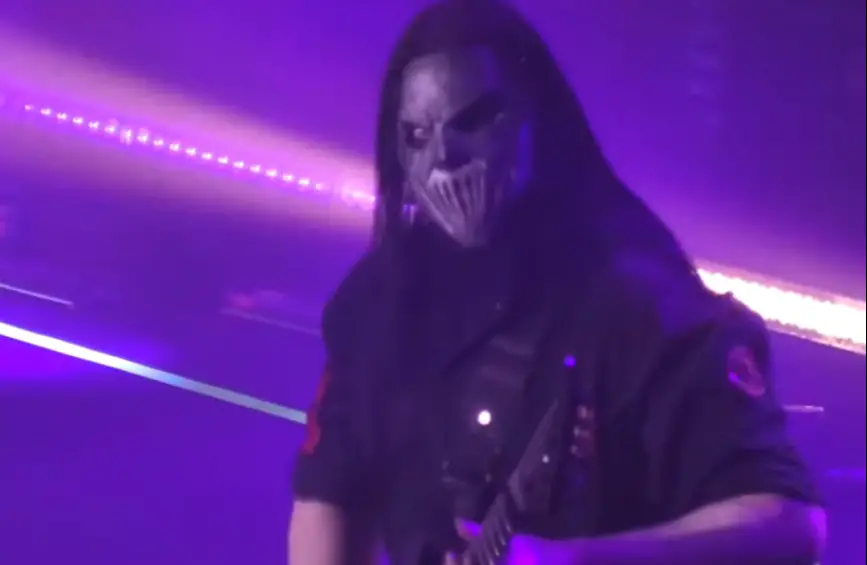 It comes at no surprise that SLIPKNOT axeman Mick Thomson is complete badass.
After all, he got stabbed in a back of the head by his own brother in a knife fight.
And then this video has emerged that will %100 give you nightmares.
In a related SLIPKNOT news, band's frontman Corey Taylor recently promised "massive news" that should be revealed soon.
"SLIPKNOT is booked to tour America end of September. We are booked to go out. And we haven't heard anything yet that it's different," Corey said during a recent appearance on Kerrang! Radio. "And we talk to Live Nation every week. We're up to date on all of the different restrictions, not only in the [various U.S.] states, but federally. We're, obviously, keeping an eye on everything and kind of going from there. Other than that, right now, there's some stuff brewing that I can't talk about, but it's massive. I can say this: you will hear about it probably in the next month or so, let's put it that way."
SLIPKNOT's "Unsainted" single was recently certified gold by the RIAA (Recording Industry Association Of America) on October 7 for accumulating 500,000 certified units.
One equivalent song unit is equal to a single digital song sale, or 150 on-demand audio and/or video streams, according to the RIAA.
"Unsainted" is taken from SLIPKNOT's latest album, We Are Not Your Kind, which was released on August 9, 2019 via Roadrunner Records. Album was once again recorded at a Los Angeles studio with producer Greg Fidelman, who engineered and mixed SLIPKNOT's 2004 album Vol. 3: (The Subliminal Verses) and helmed 2014's .5: The Gray Chapter.
We Are Not Your Kind sold 118,000 equivalent album units in the U.S. in its first week of release to land at position No. 1 on the Billboard 200 chart. Furthermore, the album made an impact worldwide with No. 1 debuts in the United Kingdom, Mexico, Australia, Canada, Japan, Ireland, Belgium, Portugal and Finland, as well as Top 5 debuts in Germany, France, Norway, Italy, Austria, Sweden, Switzerland, The Netherlands, Poland, Spain and New Zealand.