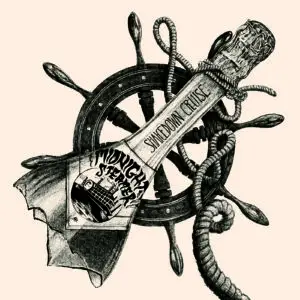 Sometimes it's great to fall back into some rock'n'roll fantasy. As we all know rock is the roots for all Metal music. No news. No wonder. More importantly to me that was born and raised under Rock belt. However, as the media likes to say rock is dead. It doesn't matter because Rock has always liked to be the living dead, the thing that refuses to die. As I said before in another review maybe the future of Rock is in its past. That's what I see here with the few Rock bans that we receive. From where I'm standing the problem isn't to go to the roots and record an album full of past references. The problem is not to use these references to create a personality. Just some pastiche of old music. For my fan's and the band's sake it's not what happens here. Midnight Steamer and "Shakedown Cruise" have tons of personality even though this personality has been built under some many influences. search and wish to be the lost link between The Rolling Stones and Judas Priest so to say. I felt lot of Kiss references as well in the nstrumentals.
Easy and full of finesse of the intro of tracks as "What's Wrong with this Town" show facete The Rolling Stones of the band. Judas Priest come with the guitars and mostly the instrumentals when the song goes all hell's breaking loose. The moody keyboarding gives a Uriah Heep atmosphere to it. On second thought, the mistic keyboarding gives all the sweet taste of the song. "Valley of Circles" goes on the same The Rolling Stones mood with a more acoustic rock vibe and drive. Maria Weigert's vocals are something esle as usual. Her velvet sweet voice fits like a glove here. Finesse, my child of the night, do you know the musical meaning of finesse? Midnight Steamer and "Shakedown Cruise" are here to show you.
I find it very intersting and amazing a band that looks for the best distortion effect and try to dose it. A band that tries lots of guitar solos not to get to heavy. In Metal music we look for the excesses. Sometimes it feels great to dose them. To look for the perfect tone. To look for the best drumming. To look for the best vocals. The name of that is finesse. Perhaps, the main idea of the album would be to recor an album that addressed to Led Zeppelin in some way. The structures here do remind the band though the idea of Rolling Stones and Judas Priest doesn't make uncomfortable. Maybe a Led Zeppelin with a female vocal would sound like Midnight Steamer. Just maybe.
Midnight Steamer "Shakedown Cruise" was released on February 25th via My Redemption Records / Cargo Records.
Track Listing:
Shakedown Cruise & Demon
The Rise and Fall of Roky
True Mothers Boy
Beat of Boredom
Tokyo Rose
What's wrong with this Town
Valley of Circles
Alphamale
Watch "Demon" official video here: