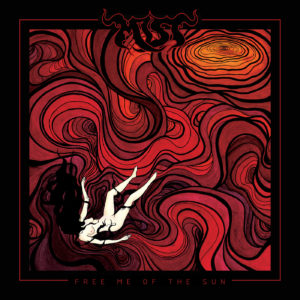 Ladies and gentlemen, this is Mist! Please, do not confuse with The Mist, which is a classic extreme metal band. This is a female doom metal band. Ah, there is one dude too.
Have I told here how I love female Metal bands yet? I guess, I have. Even more when vocalist Nina Spruk has a deep low female voice embellished by some slow and cadenced guitars. Generally, doom metal isn't one of my faves, so I simply cannot explain how a beautiful voice can make everything so different. Not only vocalist does a good job, guitars, by Ema Babošek and Blaž Tanšek, also are great and enthusiastic. Plenty of solos, the way I like it!
"Free Me out of the Sun" opens up with "The Ghoul" with a great guitar work. But the news are "Ora Pro Nobilis" which has a touch of traditional song in the beginning. The sabbathian guitar riffing does the rest of the magic. Mist go exactly by the black book of doom. But they do that with no trouble at all. Mist are a band that know exactly what they are doing. And they do that with lots of competence. Sabbath are an influence, just that. Kind of a guideline. There is no intention of being the new Sabbath.
Unlike their doom peers, "Free Me out of the Sun" is ten tracked, and the longer is only five minutes long. Pretty short, for doom metallers. Instrumentals are pretty neat, as in "December," which has a 1970s flavor. As a matter of fact, most of "Free Me out of the Sun" are 1970s flavored. From the guitar tone to the drums sonance. The drumming goes pretty well during all tracks in "Free Me out of the Sun," if I may. Heavy hands. Good for metal working.
Mist "Free Me out of the Sun" will get free of the sun on June 01st via Soulseller Records.
Track Listing:
The Ghoul
Ora Pro Nobis
White Torch
December
Altar Of You
Disembody Me
The Offering
Demonized
Delirium
Free Me Of The Sun
Watch "Disembody Me" official video here: