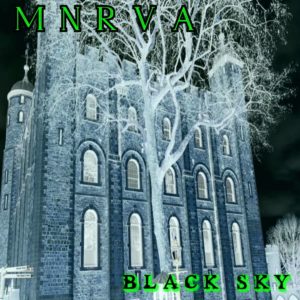 There are some musical conventions that are so deeply rooted in Metal music that it is really difficult for bands not to make use of them. Some call them clichés; I'd rather call them conventions due to the bad name the press gave to it. As a matter of fact, those conventions are needed because music is of a mathematical thought, the chords are limited, rhythms as well. In Metal, some conventions were built all over the years and in order to belong to a genre – it's best for fans – bands use them. The solution bands found was to mix conventions, sometimes those conventions come from inside the Metal movement, or outside of it, in general from the other heavy music world – punk, hardcore, heavy rock, etc. this Mnrva "Black Sky" is an outcome of this process.
I guess some people gets offended when I say some band has the taste of a band, or some band sounds like another band, or whatever, but believe me my child of the night, I mean no harm. It's a way of making you, the reader, wonder how the band sounds. It's just a honest comparison. So, "Black Sky" sails safely through Doom Metal's conventions. As it is an EP with three tracks, I had to pay enough attention to the marks Mnrva left in it to be able to write about it. Well, what called the eye immediately is the bluesy guitar intro in "Not the One" and all the interventions guitarist Byron Hawk does throughout the album. He is not the most technical or shredder guitarist of all, but the man's got feeling, and that's enough. His inspired interventions have the pros of being on the exact time. I like that a lot.
Mnrva don't sound like Black Sabbath, and I must say, it's another pro to their music. Sounding like Black Sabbath is a dangerous and thin ice for Doom Metal bands. I know it is very hard no to because the genre leads to it as if an auto-pilot mode. But Mnrva did it okay.
Mnrva "Black Sky" will be released on October 04th.
Track Listing:
Not the One
No Solution
Black Sky
Watch "Black Sky" alive video here: