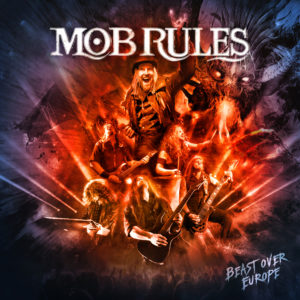 Live albums are always magical, aren't they? Please, tell me how many live albums there are in your list of ten best albums ever. Yeah, at least half of them, isn't it?
I guess live albums are so dear to us metalheads because we praise the ability of playing well instruments; in other words, we praise good musicians and, therefore, good music. And good musicians have the obligation to play live. Simple as that. Metal praises, and stimulates, musicians to do their best. Of course, sometimes we also praise musicians that play more with heart than technique. But heart and technique are oppostite things to us metalheads. We are used to value more the heart tahn technique – well, at least we were. All musicians must play with their hearts no matter what. And where do we feel the true heart? In live albums, of course.
Short of all things, the first thing that comes to mind while listening to Mob Rules "Beast over Europe" is the heart and passion for Metal. Mob Rules' compositions embellished in a potent and anthemic Power Metal value Klaus Dirks' voice. "Beast over Europe" comemorates the band's 25th anniversary and we all know that this mark is very difficult to be achieved no matter Metal style the band plays. The fourteen tracks are a kind of welcome and thank you note to all fans around. I guess there is no better way a band has to thank their fans than a live album. It's the kind of passion that only Metal fans can tell, and brag, about. Very heartwarming I have to say.
In "Beast over Europe" Mob Rules chose not to change extremely the songs with long and inifinite solos or vocalist's talks which sometimes make the album too boring to listen at home. Of course, there were moments when they almost did it, but they were able to hold their horses. What works in the show, sometimes doesn't work well at home. All fourteen songs, except for some small excerpts as in "Dykemaster's Tale," have almost the same length as their studio versions. Of course with the plus of being recorded alive with a crowd of passionate fans. "Beast over Europe" is a simple and gentle display of what Mob Rules are able to accomplish on stage showing all the respect and affection they gathered throughout those 25 years. The guys are playing as if they were beginners due to all the passion and heart they show.
"Beast over Europe" is not a for fans only album. It's recommended for any metalhead that loves great alive music played by a band that really knows what they are doing on stage. Mob Rules clearly do.
Mob Rules "Beast over Europe" was released on September 13th via Steamhammer / SPV.
Track Listing:
Beast Reborn (Intro)
Ghost of a Chance
Somerled
Black Rain
Sinister Light
Dykemaster's Tale
My Kingdom Come
The Last Farewell
Children's Crusade
On the Edge
In the Land of Wind and Rain
Hollowed Be Thy Name
Way Back Home
Rain Song
Watch "Ghost of a Chance" alive version here: