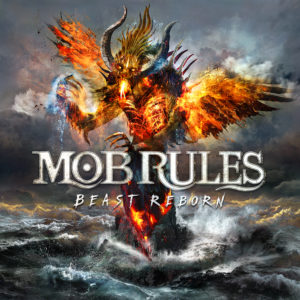 One more awaited album from a veteran band. Though the wait wasn't so long, mere two years. When I call a band veteran, understand I am paying them my respects. Metal is that strong because fans have a deep respect for them. I don't know any other musical style, except classical music, that have such a deep and respectful attitude towards artists that came first. It makes us stronger, boys and girls, believe me. No new band can ever exist without the old ones. Keep my words. This and everything else make us partners in crime. So, here's Mob Rules with "Beast Reborn," a very well-chosen title, as you know I don't say a word about names.
As many of you may know better than me, Mob Rules are an outstanding power metal band with a long and prosper career. "Beast Reborn" marks the end of a two-year hiatus and the usual energetic and fast-paced music. But "Beast Reborn"offers much more to the fan-listener which are remarkable melodies so deep connected to their music which makes very difficult to wonder "Beast Reborn" without them. Of course, high doses of adrenaline, strength, and musical power. Otherwise, why calling yourself a power metal band? Well, we all know there are bands that forget the power… But this is not even near the case of this precious gem Mob Rules offer us. "Ghost of a Chance" introduces us very well to "Beast Reborn's" sea of enchantress. With nice guitar riffs, "Sinister Light" keeps the faith and doesn't let the intense goes down.
Mob Rules sweat good melodies and sing along choruses without forgetting any inch of their heaviness, we're good at that. "Traveller in Time" holds to the title idea, I don't why. could recreate all the atmosphere of an allegedly travel in time. So, "Beast Reborn" is an album full of amazing guitar solos, melodic and catchy tunes. It was worth the await. Before I forget, a highlight to the beautiful and might "War of Currents."
Mob Rules "Beast Reborn" will released on August 24th via Steamhammer / SPV  Records.
Track Listing:
Beast Reborn
Ghost of a Chance
Shores Ahead
Sinister Light
Traveller In Time
Children's Crusade
War of Currents
The Explorer
Revenant of the Sea
Way Back Home
My Sobriety Mind (For Those Who Left)
Watch "Ghost of a Chance" official video here: