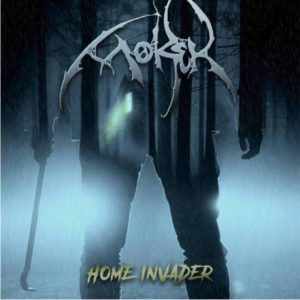 It is when we hear to bands like Moker that we see how Metal has evolved throughout the years. Moker "Home Invader" is mature, well-produced, clear as water in their intent which is a brutal death metal sonority. Above all, "Home Invader" is an effort that excites. Deep down in all those straight-ahead-right-in-the-face songs there is some charm. It is the instrumental. Moker instrumental lines excite. Some think that only technical death metal can have a neat instrumental, but that is not the truth. "Home Invader" prove them wrong.
"Home Invader" is in a certain way catchy. As long as a death metal effort can be. It is impossible to stand still when you listen to Moker. That is the pure truth. The one to blame? Ah, if I could I would say it is the drummer. Well, it is always the drummer's fault. Glenn Leuckx really knows how to use his sticks. Fast, furious, technical, and most of all, with a jumpy beat that drives the attention. And a very good use of the cymbals. Listen to "Held Hostage."
It all would be useless if Moker could not pass it on the right attitude. Moker hold that healthful "we don't care" attitude. It means a lot, therefore, "Home Invader" is a very honest effort. Honesty is all around in "Home Invader." That is why it pleases so much. "Throat Snatcher" and "The Act of Lacerating" have good guitar moments. The solo in "Throat Snatcher" and the lead guitar riff  and solo in "The Act of Lacerating."
A funny fact about Moker "Home Invader." Not really them, but when I first got to listen, I thought Moker would be something like Ice T's Body Count. Do not look at me like this! I will explain. First because the name Moker. It looks like one mistyped mocker. Ok, not really, but I thought so. Then, because of the intro "Emergency Call," which in my twisted and old mind, reminded me the intro of Body Count's first effort. Useless to say that listening a bit more they are hundreds of miles away. But impressions are impressions.
Moker "Home Invader" invaded our homes on December 2nd and it was self-released.
Track Listing:
Emergency Call
Break & Enter
Schizoaffective Disorder
Held Hostage
Code: 417
Hate Speech
Throat Snatcher
The Act of Lacerating
Police Forensic Investigation
Watch "Held Hostage" official music video here: