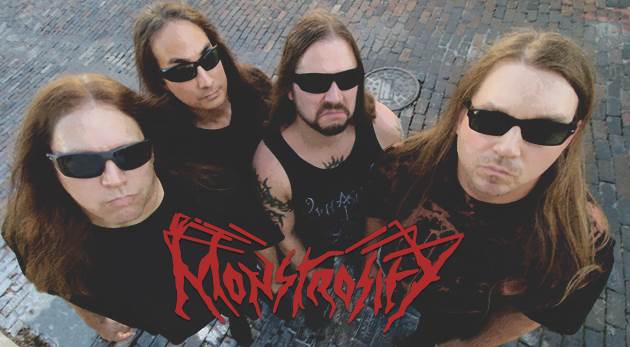 On September 7th Metal Blade Records will release 'The Passage Of Existence', the brand new studio album by Florida Death Metal legends MONSTROSITY! It's the bands first album in 11 years!
For another preview of 'The Passage Of Existence', you can now listen to the 2nd single 'Kingdom Of Fire' below.
Comments MONSTROSITY's Lee Harrison on the new single: "'Kingdom of Fire' is the second single from the forthcoming 'The Passage of Existence' album. We are very proud to release this one since it has the dynamics and the changes that Monstrosity are known for. This one is a soon to be Monstrosity fan favorite and has lots of peaks and valleys while retaining their awesome brutality. Again, this one is made to be played loud and proud, don't sell yourself short. Come into the Kingdom!"
Drummer Lee Harrison recorded his drum tracks at Audiohammer Studios in Sanford Florida with veteran metal producer Jason Suecof. A week was spent creating rock solid drum tracks. Guitar and bass tracks were handled at Ascension Sound in Tampa with the vocal tracks being recorded at Obituary's "Redneck Studios" in Gibsonton Florida. The mix was handled by producer Mark Lewis (Megadeth a.o.) and the resulting 2018 album 'The Passage Of Existence' was born. 12 tracks of masterfully crafted death metal for the modern era from the standard bearers of extreme art. MONSTROSITY still stand taller than ever, still delivering their brand of state of the art sonic devastation!
'The Passage Of Existence' track-listing
1. Cosmic Pandemia
2. Kingdom Of Fire
3. Radiated
4. Solar Vacuum
5. The Proselygeist
6. Maelstrom
7. Eyes Upon The Abyss
8. Dark Matter Invocation (ltd. Digi-CD bonus)
9. The Hive
10. Eternal Void (ltd. Digi-CD bonus)
11. Century
12. Slaves To The Evermore
Monstrosity line-up:
Mike Hrubovcak – vocals
Lee Harrison – drums
Mike Poggione – bass
Mark English – guitars
Matt Barnes – guitars