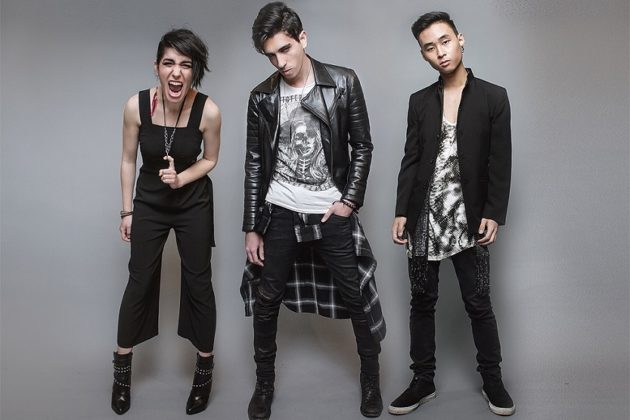 Pop/rock trio MOONFALL is excited to unleash "LOST"– the first music video off their forthcoming EP "EMPTY CAGE". The gang headed out to Philadelphia, PA to film the video with director Chris Newhard (Sia, Jessie J, Train) at Baleroy Mansion. Notorious as one of the most haunted houses in town, the original family/owners of the property experienced paranormal activity in the house, hallucinations, and inexplicable deaths.
MOONFALL channeled this concept in the video by depicting all three members circling throughout the building while battling the unknown. "EMPTY CAGE" will be available for pre-order on September 17th and is due out October 6th.
Check out the music video for "Lost" below.
When asked about "Lost" vocalist/guitarist Matthew Howl said:
"We wrote 'Lost' from a very chaotic perspective. It's a very familiar feeling, losing something important and not being able to let it go. We had a lot of fun working on the video with our director, Chris Newhard, and experimenting with crazy ideas that were almost dream-like. We love the energy it gives off."
In addition, MOONFALL will be joining ECHO BLACK on their THE BREAK OF DAWN TOUR. The first show on the first leg of the tour will kick off in Niagara Falls, NY at The Evening Star on October 6th and wrap up in New York, NY at American Beauty on November 2nd. Check out the dates below.
October 6th -Niagara Falls, NY – The Evening Star
October 7th – WIlliamsport, PA – The Ground Floor
October 8th – Stanhope, NJ – Stanhope House
October 13th – Cleveland, OH – The Winchester
October 14th – Kittanning, PA – Radioactive
October 20th – Philadelphia, PA – The Barbary
October 22nd – Wilmington, DE – Bar XIII
October 26th – Baltimore, MD – The Depot
November 2nd – New York, NY – American Beauty