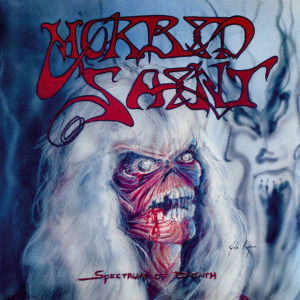 It's always big when a record company decides to re-release some unsung gems – or not – of Metal Music as High Roller Records is doing right now despite all the adversities this time around brings us. The list they deliver brings some unexpected bands as this Thrash Metal classic cult Morbid Saint. Be patient that there are many others to come, and some have already been released.
I confess that I didn't know the band until I got this re-release and I was impressed by the violence and cutting edge music that popped up from my player. Morbid Saint play the most violent  and bloody kind of Thrash Metal bordering the raw deal in essence. I say in essence because the band has some indisputable talent that they uise to make their music even more aggressive. I some ways "Spectrum of Death" borders Death Metal in tracks as "Assassin" with its crazed and insane rhythm and riffing and "Damien" with its astonishing speed. However, the thing that really sparked my attention the most is the resemblance with a very dear band of mine and also a cult act: Metal Church. You don't have to warn me and advise me that Metal Church aren't a Thrash act. I know it perfectly well. Even so, in their early albuns there was a certain Thrash intent close inside their music hidden enough to many not notice – or not as I did. Two facts that made me do this comparison: the vocals and the drumming. From where I'm standing the tone of voice is pretty close and the drumming reminds a lot Metal Church early albums. The guitars don't. Not even close. As I told before, Morbid Saint guys built their music not to sound too polished. This makes tittle track "Spectrum of Death"  strumming intro sound a bit peculiar and near out of tune. An unadvised fan might think it's really out of tune, but it's the chord sequence the band chose. Done with the intro "Spectrum of Death" gets really insane. I have to say that this kind of Thrash Metal pleases me the most. Its frentic riffing and groundshaking drumming make the fan want to neckbreak on.
Unlike their peers, Morbid Saint don't show many hardcore traces. In fact, the band's music is too Metal in essence, and, as I told before, their music borders early Death Metal in many aspects. Pay attention to the guitar solos in "Beyond the Gates of Hell" and tell they don't sound as many others in early Death Metal. The album cover, for instance. Too far from Thrash peers and too near Death acts. Of course, the goal of the band is to thrash it all, but indeed the doors were opened to most extreme forms of Metal.
Morbid Saint "Spectrum of Death" was released on May 14th via High Roller Records.
Track Listing:
Lock Up Your Children
Burned at the Stake
Assassin
Damien
Crying for Death
Spectrum of Death
Scars
Beyond the Gates of Hell
Watch "Assassin" + "Beyond the Gates of Hell" live video here: