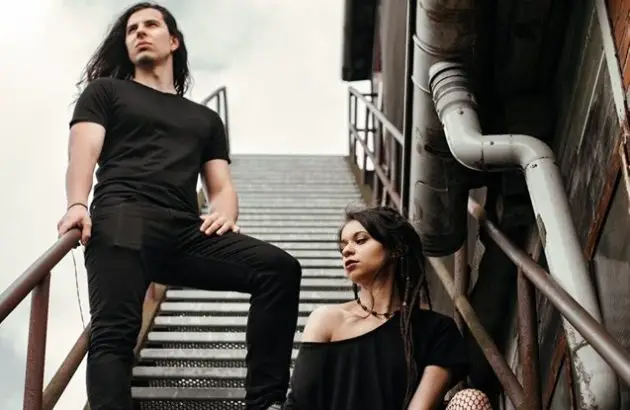 MORPHIDE is a female-fronted alternative metal/progressive metal band, currently based in Copenhagen, Denmark. The band consists of two main composers (Chris: guitar, songwriter; Eissa: vocals) and takes inspiration from such bands as TESSERACT, KARNIVOOL, TOOL and NORTHTALE. Starting as a cover project in 2015 under a name AWIGO KNOWS, in 2019 the band changes the direction towards the original material under a new name and releases debut single "Mayhem" in June 2019. The band is about to face an European tour covering Latvia, Lithuania, Poland and Czech Republic, scheduled on November 2019.
After loud and powerful debut in June 2019, MORPHIDE is back with their new single "Enter The Storm"! The song starts off with melodic yet powerful intro, smoothly proceeding to booming rhythm of bass in a style clearly reminding of TESSERACT.
With airy guitar tones and sharp drums, "Enter The Storm" is as soothing as heavy and, no doubt, emotional. On top of beautiful and atmospheric ambient sounds, there are diverse vocals that add another layer of texture to supplement the song.
Starting off with charming melodies, the breathtaking vocal range and power is being shown, especially during an epic melodic bridge at the end of the song. Combining high cleans, powerful harsh and stunning screams, MORPHIDE's singer Eissa shows full range of her vocal capabilities. All of it makes Enter The Storm absolutely mesmerizing release from MORPHIDE, definitely worth to appear in your playlist.
"Enter The Storm" points out the necessity to take action and make a change without waiting for a shepherd to show the easy way. Easy way is not always the right way, and following others may without a question lead to destructive consequences. Music video was filmed by Aleksandr Sugak . The song was mixed and mastered by Myroslav Borys-Smith at Jigsaw Audio.
WILD SPIRIT TOUR 2019 dates:
01.11 – RIGA (LV) Melna Piektdiena
02.11 – VILNIUS (LT) nArauti
03.11 – WARSAW (PL) Offside
04.11 – PRAGUE (CZ) Klub 007 Strahov
06.11 – WROCLAW (PL) Alive
07.11 – SZCZECIN (PL) Jambar
08.11 – GUBIN (PL) Dark Side Festival
09.11 – ZAGAN (PL) Elektrownia
10.11 – GDANSK (PL) Bunkier