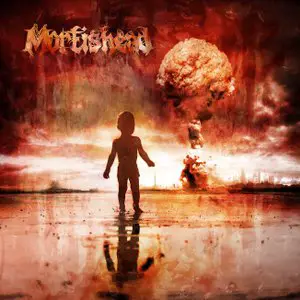 I was once again approached by the fellows in MORTISHEAD to review their latest work, an EP entitled Totality. These guys never fail to deliver the goods and they are really good people.
When I looked at the track list and saw a song named Shitstorm, I knew I was going to love it. The first track is a creepy intro that is probably going to give me nightmares, even though I'm not Brittish.
Then, low and behold, Shitstorm is the lead track. It starts in a sprint, slows to a jog, and then moshes. I don't know who arranges the songs for these dudes, but it will never be boring. The scream that Luke (The Bastard) Spencer-Harrop belts out at the end makes me glad that I am on that fellow's good side.
The next track is called Aslaved Asleep. It makes me want to pick a fight with my shadow. At the same time, it makes me want to shed my skin. This song is very deep lyrically. and I can relate to it.
The next track is Totality, the title track. This is the first I heard from this EP when they released the video for it. I loved it then and I love it now. I'll post said video at the bottom of this article. FYI, the zombie school girl in the video is the drummer's daughter. Good job Richard (Twitch) Nasmyth and Twitch Jr.!
The final track is called Executive Order. On a few of these songs I was going to mention how I could hear and pick out the bass line, but on this track Dan (Tha Man) Shaw Odell get's to show out. This one wins as my favorite from the EP because of Dan Tha Man. I am a bass player as well, and I approve!
Last but not least, The guitar duo of Ash (ThrAsh) Doulton and Jake (Cake) Kiley shine like gold on the whole ep and the sampler / Key man, Nick (Slippers) Luxa Richards knows exactly what he is doing, and when to do it to make it awesome.
So, in review, I would for sure buy this album. They already sent it to me for free, but I am going to see about sending them the cost because I like it that much and I need to support bands that I like so they can afford to make future music. You can purchase it, as well as the last EP and some groovy candles @ https://www.mortishead.com/shop
The track list is:
1.) I've Spent My Nights Terrified
2.) Shitstorm
3.)Aslaved Asleep
4.)Totality
5.) Executive Order