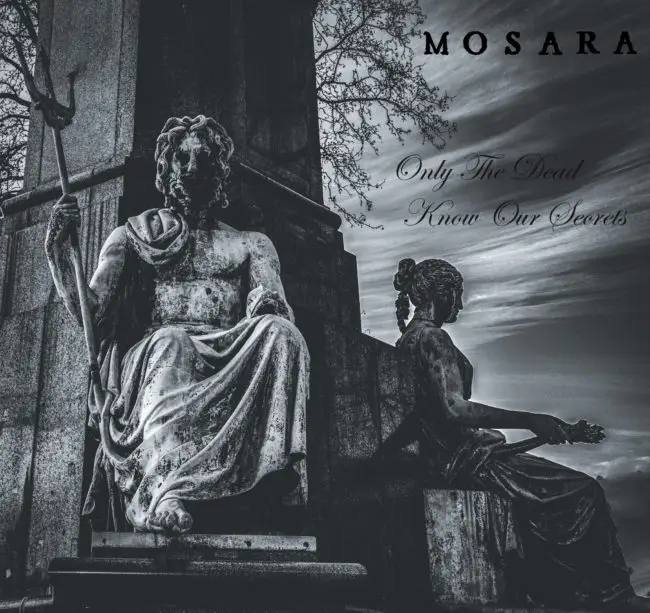 First things first, what a cool album title! "Only the Dead Know Our Secrets" means such a lot and varied of things that I can't even know from where to start. Mosara is also a cool name for a band, however I wasn't able to find the meaning of it. Same thing with the music I heard here. Cool but difficult to label. I mean, not difficult to label because it's the good old Doom Metal. It's just hard to explain what happens here. Doom Metal still tricks me. Well, the obvious influence of Black Sabbath is something that initially stands out with opening track "Magissa" and its hard playing bass and the punching drumming. The low tuned guitars full of overdrive are also an obvious reference. But vocals stand out. They're desperate, sometimes illegible in the midst of all the overdrives and the punching drumming. Ok, I'm talking about the regular vocals, however in the middle of the song comes a female voice reciting. That gives the song the mood and atmosphere most Doom Metal bands would love to have. It's dark, it's gloomy, it sounds as a black mass. Still trying to recognize the language she's speaking. I dare to say that it sounds like Latin, but I'm not really sure. By this opening track my dear fan will get what Mosara are all about.
Black Sabbath's influence gets stronger in the following and tittle track "Only the Dead Know Our Secrets" where the stoned instrumentals give the tone. Its cadence is slow like death – Well, not always that slow, but my dear fan gets the idea. The guitars also have a mystique tone in the song that gets the fan by the guts. Though slow "Only the Dead Know Our Secrets" is visceral yet somehow ethereal. The mood changes a little with the acoustic and somehow oriental driven "The Permanence of Isolation" where the guitars are extra low tuned and vocals are even more desperate. Easily the song that is eligible to be the soundtrack of the end of the world.
There are only four tracks in "Only the Dead Know Our Secrets" and they all showcase Mosara's special personality. "Only the Dead Know Our Secrets" isn't an easy album for the ones who aren't introduced to the arts. I was first attracted to the amazing overtones the band got here. The perfect mix of classic and modern.
Mosara "Only the Dead Know Our Secrets" will be released on July 22nd.
Track Listing:
Magissa
Zion's Eyes
The Permanence of Isolation
Only the Dead Know Our Secrets
Watch official video here: