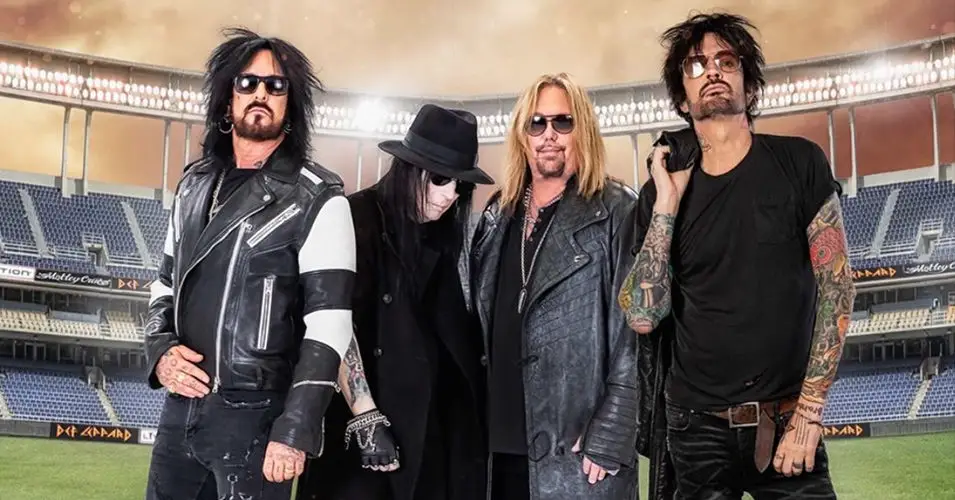 MÖTLEY CRÜE's co-headlining "The Stadium Tour" with DEF LEPPARD will finally kick off on June 16 in Atlanta, GA.
CRÜE has now announced more VIP packages — "Wild Side" VIP Upgrade and "Kickstart" VIP Upgrade. "Wild Side" VIP Upgrade is priced at $3,500 while "Kickstart" VIP Upgrade sells for $1,500.
Band also stated that VIP Upgrades for select shows DO NOT include concert tickets, which needs to be bought separately. Full list of dates and regular tickets can be found at this location. For more information about VIP Upgrades, visit this link.
During a recent interview with Chile's Radio Futuro, DEF LEPPARD guitarist Phil Collen was asked if fans can expect to see the band touring South America in support of their latest record, Diamond Star Halos.
He answered: "Definitely. Obviously, this year we're touring the States with MÖTLEY CRÜE, POISON and Joan Jett. And that starts in a couple of [weeks]… But the tour is gonna be three years — at least three years — for the album. [We're doing] America this [year]. Definitely next summer is gonna be Europe. And then South America, Australia [and] Japan — next year, hopefully at some point, we'll be playing all of those markets."
On whether if the same package of bands that touring U.S. will be touring through other countries, Phil said: "That's what they're talking about. Obviously, I can say, 'Yeah, let's do that,' but we've gotta ask them as well. But I think MÖTLEY CRÜE have signed up. So hopefully that's all gonna come, and Joan Jett and POISON. That would be amazing."