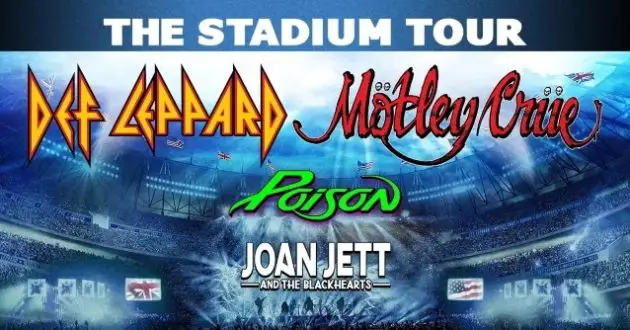 As with the most tours with coronavirus pandemic situation, MÖTLEY CRÜE, DEF LEPPARD, POISON and JOAN JETT & THE BLACKHEARTS is on the verge of getting cancelled, although fans are still waiting for official statement from the bands.
Even thought that Tommy Lee recently said "Everything's still a go," that is highly unlikely to happen, especially when Dr. Ezekiel "Zeke" Emanuel, a special adviser to the director general of the World Health Organization, recently said that he doesn't anticipate it to be safe to return to concerts, sporting events and other mass public gatherings for another 18 months.
Yesterday, MÖTLEY CRÜE posted a throwback photo on their Instagram, after one fan wrote following message in the comments: "Cancel the tour already so your fans can get their money back. No tours are happening this year. Do the right thing. BON JOVI did."
To which MÖTLEY replied: "Bands don't decide this. We await info as well."
Then another fan asked: "Is this stadium tour on or off? So confusing with everyone saying different things. Governor said no shows till 2021 so what's going on? I have VIP "
And band responded: "No one has said anything as yet."
Metal-themed publication Sleaze Roxx recently reported that "the tour is almost 100% cancelled."
"As far as the Mötley thing goes, my source has just gotten off the phone with his contact and the tour is almost 100% cancelled," source said. Rehearsals at an unknown location in LA were supposed to happen in May. Those have been cancelled.
"Given the band's age and to quote the contact's words "declining ability", it may not even get rescheduled. Vince [Neil] had already lost in excess of 20 lbs.
"Sleaze Roxx has also been advised that Mötley Crüe intend to embark on a tour as soon as the Coronavirus / COVID-19 Virus pandemic is under control and/or resolved.