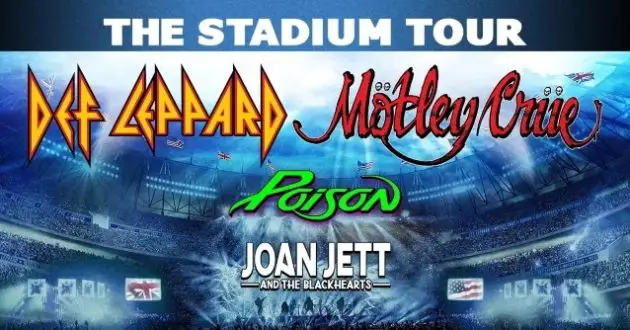 MÖTLEY CRÜE, DEF LEPPARD, POISON and JOAN JETT & THE BLACKHEARTS have issued an official statement regarding the status of their previously announced "The Stadium Tour."
"We wanted to reach out to all of our amazing fans and let you know that we've been hard at work preparing an amazing show," statement starts.
"Our priority during this unprecedented time is to make sure that we are being as thoughtful and responsible as possible in the decisions we are making regarding 'The Stadium Tour' and that we are putting the fans' health, well being and safety first and foremost.
"We are currently weighing all options and are awaiting further direction from the powers that be.
"Our goal is to have an official update to everyone by June 1 outlining exactly how we will proceed. In the meantime, stay safe and healthy. We can't wait to see you all again."
Last month, metal-themed publication Sleaze Roxx reported that "the tour is almost 100% cancelled."
"As far as the Mötley thing goes, my source has just gotten off the phone with his contact and the tour is almost 100% cancelled," source said. Rehearsals at an unknown location in LA were supposed to happen in May. Those have been cancelled.
"Given the band's age and to quote the contact's words "declining ability", it may not even get rescheduled. Vince [Neil] had already lost in excess of 20 lbs.
"Sleaze Roxx has also been advised that Mötley Crüe intend to embark on a tour as soon as the Coronavirus / COVID-19 Virus pandemic is under control and/or resolved.